Britain a 'natural' Belt, Road partner
Share - WeChat China anticipates that Britain, a global comprehensive strategic partner for the 21st century, will play a pivotal role as a "natural partner" in advancing the China-proposed Belt and Road Initiative, said Liu Xiaoming, China's ambassador to the UK.
In an interview with Chinese reporters ahead of British Prime Minister Theresa May's official visit to China for three days beginning on Wednesday, Liu said China hopes the UK will help take the initiative to a new fruitful stage in China's new era.
May will stop in Beijing, Shanghai and Wuhan.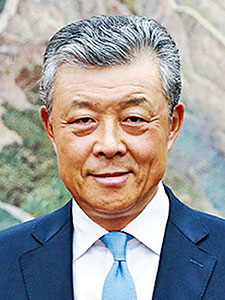 Quoting British Chancellor of the Exchequer Philip Hammond, the ambassador stressed that the UK is in a good position to be China's natural partner, realizing more "golden fruits" as a result of advancing the initiative in a broader and more profound international context.
"Britain, lying at the western end of the Belt and Road, is a natural partner in this endeavor," Hammond had said when attending the Belt and Road Forum for International Cooperation in Beijing last May.
Liu said the 19th CPC National Congress, which set out China's future development blueprint, emphasized the significance of developing the Belt and Road Initiative for a community with a shared future for mankind while adhering to the principle of common and inclusive development.
"This important strategic deployment has pointed out the direction for us to push forward building the Belt and Road Initiative from a wider range and at a higher level," he said.
He said Britain is an important participant in the initiative and has many advantageous resources in the economic, financial, law, educational, science and technological sectors. London also has demonstrated its strategic vision by "daring to be the first", he noted.
Since the infrastructure and investment-oriented initiative was first mentioned by President Xi Jinping in 2013, the UK has been a staunch supporter. It was the first major Western power to apply to join the Asian Infrastructure Investment Bank, which is the key lending arm that supports the initiative.
And Britain was the second nation, after China, to make a concrete financial contribution to the AIIB's special fund, with a capital injection of $50 million, which was announced in December 2016. The pledged input will provide financing, primarily to support low-income developing member economies in preparing high-quality projects.
Last year, Britain was also the first major Western country to jointly approve and sign the Guiding Principles on Financing the Development of the Belt and Road.
"We can say at this moment China and Britain have formed a strong political consensus and a solid foundation for cooperation in strengthening the Belt and Road Initiative," Liu said. He suggested the two nations seize the positive momentum to benefit from more "blooms and fruits".
The ambassador's optimism is backed by facts and figures, especially in trade and people-to-people exchanges.
Britain is now China's second-largest trading partner within the EU. And China is Britain's second-largest trading partner outside the EU. Both nations are key sources of investment for each other.
In 2017, trade volume between China and Britain was $79 billion, an increase of 6.2 percent year-on-year. In that period, British exports to China increased by 19.4 percent.
More than 500 Chinese companies have a presence in Britain. They represent sectors such as trade, finance and telecommunications. And they are reaching out to emerging industries, including new energy, high-end manufacturing, infrastructure and R&D, with a total investment of about $18.9 billion. Among those projects, Hinkley Point C nuclear power plant is a signature deal that binds the UK and China closely into a future energy partnership.
Annual people-to-people exchanges now exceed 1.5 million. And more than 170,000 Chinese students study in the UK. There also are 29 Confucius Institutes and 148 Confucius Classrooms in the UK, with more than 160,000 registered students learning Mandarin.
More than 600 British primary and secondary schools offer Mandarin courses, making the Chinese language the UK's second most popular foreign language taught at school.
Liu suggested that China and the UK synchronize their development strategies under the Belt and Road Initiative and increase precision in project design and investment, match their respective strengths, focus on key areas and push for results.
The high-level political consensus should be translated into concrete cooperative initiatives, pragmatic infrastructure interconnection, equipment manufacturing, finance and investment, Liu said. This can create more visible and tangible projects and raise awareness of cooperation related to the Belt and Road Initiative.
Summing up, Liu suggested that the two countries blaze new trails and actively explore bilateral and trilateral cooperation in Belt and Road Initiative-related fields. He said that they should come up with new ideas and new measures and jointly tap into huge third-party markets to achieve the effect of "one plus one is greater than two".
China will hold the first International Import Expo in November. Next year, it will host the second Belt and Road Forum for International Cooperation.
"We believe that with concerted efforts both countries will certainly seize and make good use of the opportunities offered by the Belt and Road Initiative and deliver more benefits to the two countries and the people of the world," Liu said.
Ouyang Xueyan in London and Zhou Jin in Beijing contributed to this story.