Guangzhou pushes for keen edge in industries
Share - WeChat Investment bears fruit, as Silk Road trade hub attracts global high-tech innovative projects, Chen Hong reports.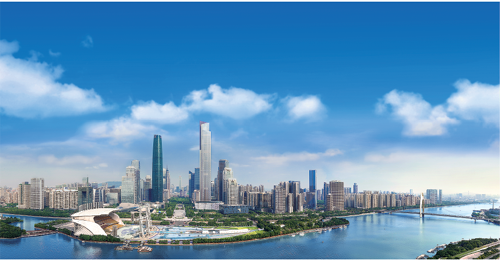 The government's emphasis on innovation has given rise to a swift transformation for the millennial trade hub of Guangzhou to become a city with cutting-edge technologies and an influx of investment from world-leading industries.
The Guangdong provincial capital and birthplace of the ancient Maritime Silk Road is projected to become one of the global leading players in the sectors of next generation information technology, artificial intelligence and biomedicine, or IAB.
"We are working on a five-year guideline for the IAB industry of Guangzhou from 2018 to 2022, which will further fuel the momentum of the industry," said Guangzhou Mayor Wen Guohui.
The industrial output of IAB is projected to surpass 1 trillion yuan ($155.5 billion) by the end of 2022, when industrial clusters will take a lead in China and have global influence, Wen said.
The city will provide preferential policies in areas of funding, human resources and land subsidies to make sure the mission is fulfilled, the mayor added.
Three municipal departments, including Guangzhou development and reform commission, Guangzhou industry and information technology commission and Guangzhou science technology and innovation commission, will allocate no less than a 1 billion yuan annual fiscal fund respectively to support IAB industries.
The city will specially set up a reward system in the existing talent policies to attract top professionals in the IAB sector to work in Guangzhou.
In terms of land, which is always in short supply, the mayor said the city will arrange at least 5,000 mu (333.3 hectares) each year to satisfy the needs of IAB development.
In fact, the IAB industry recorded a remarkable 10 percent year-on-year growth in 2017, with total revenue estimated at 520 billion yuan although the official figure has not been yet released. In the first half of 2017, a total of 24 IAB projects settled in Guangzhou, with accumulative funds of nearly 100 billion yuan involved. One of the highlight projects was the establishment of the world's largest 8,000-resolution panel factory by Sakai Display Products Corp, a subsidiary of multinational electronics manufacturing contractor Foxconn Technology Group in Guangzhou's Zengcheng district.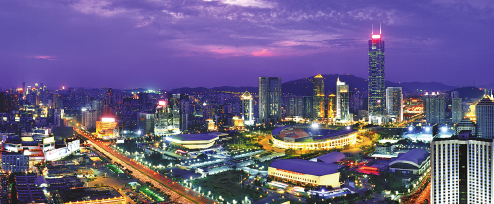 Other projects included a smart city by worldwide internet solutions provider Cisco Systems in Panyu district and Chinese biopharmaceutical company BeiGene Ltd's new oncotherapy medicine manufacturing center in Guangzhou Development District.
"Guangzhou is at the right timing to develop IAB," said Wang Xiaodong, co-founder of BeiGene and a foreign academician of the China Academy of Sciences.
Providing an excellent base for the development of the biomedicine industry, Guangzhou has the advantages of having a big potential market, low costs, rich human resources, established innovative systems, efficient government services, and open and tolerant communities, Wang said.
The city government hosted the Fortune Global Forum in 2017 and actively participated in some top-level meetings, such as the World Economic Forum in Davos, as an effort to introduce its emerging industries, including IAB, to the outside world.
The senior officials of the city had been in talks with nearly 40 executives of the foreign and Chinese transnational high-tech innovative corporations during summer Davos in Dalian last June.
As a result, they reached more than 20 cooperation deals, the media reported.
Gianluca Pettiti, then president of Thermo Fisher Scientific China, the world leader in serving science, was among them. He met the officials to push forward the strategic cooperation agreement signed a year before to deepen the cooperation in the areas of biotechnology, precision medicine, food safety, environment with the city government of Guangzhou.
"Guangzhou is becoming the hub of innovation in recent years, as China is transforming from 'Made in China' to 'Created in China'," Tony Acciarito, new president of Thermo Fisher Scientific China, told China Daily.
"The 13th Five-Year Plan (2016-20) of Guangzhou aims to encourage the development of the biomedical industry, proposing to enhance the progress of the precision medicine industry. Thermo Fisher, adhering to the national strategy as well as the Guangzhou local deployment, will continue to drive innovations 'in China, for China'," said Acciarito.
To fulfill the city's ambition as a global IAB industrial leader, it plans to develop 10 valued innovation parks in different districts, which will be varied and complementary in terms of development directions. "It will take one or two years for the new industries to develop and generate sizable output. At that time the quality and quantity of Guangzhou's economy will make big strides," the mayor noted.
Highlights of Guangzhou
Main economic data
GDP in 2017: 2.15 trillion yuan
Foreign capital actually utilized: $6.29 billion, up 10.3% from 2016
Total imports and exports in 2017: 960 billion yuan, up 12 % year-on-year
The IAB industrial output of Guangzhou in 2017: 520 billion yuan
New materials and new energy industrial output in 2017: 360 billion yuan
Innovation
Guangzhou will develop the IAB and NEM industries, generate five industry clusters with annual industrial output reaching 100 billion yuan each and build 10 valued innovation parks.
Major projects include
Cisco smart town
GE biological industry park
LG 8.5 generation OLED
CanSemi Technology
Foxconn VR technology
Cold Spring Harbor Laboratory
Living environment
Floral decoration and floral belt coverage increased by 50,000 sq m in 2017; An average density of PM2.5 of 35 microgram per cubic meter
Opening-up and international exchanges
Guangzhou has 61 consulates general the second most in China
Guangzhou established ties with 70 sister and friendly cities worldwide and built economic and trade relations with over 220 countries and regions worldwide
Honors for business environment
1. Awarded "Best Commercial City in the Chinese Mainland" five times by Forbes Magazine
2. Ranked for the first time among the 49 first-tier cities of the world in the World Urban System Rankings 2016
3. Ranked No 1 in the Business Environment Indices of Chinese Cities in 2017, released last November by the Academy of Greater Bay Area Studies
4. Ranked No 1 in the Chinese Cities of Opportunities 2017 by PWC and China Development Research Foundation
Infrastructure
Guangzhou Baiyun International Airport launched 12 new international air routes in 2017 with a flight network covering 220 destinations. Passenger throughput of the airport was 65.80 million in 2017. Cargo throughput of Guangzhou Port posted 590 million tons in 2017; container throughput, 20.35 million TEUs. Guangzhou opened 4 metro lines in 2017, adding total number to 13 and mileage to 400 kilometers.