US shows it's hell-bent on having its own way
Share - WeChat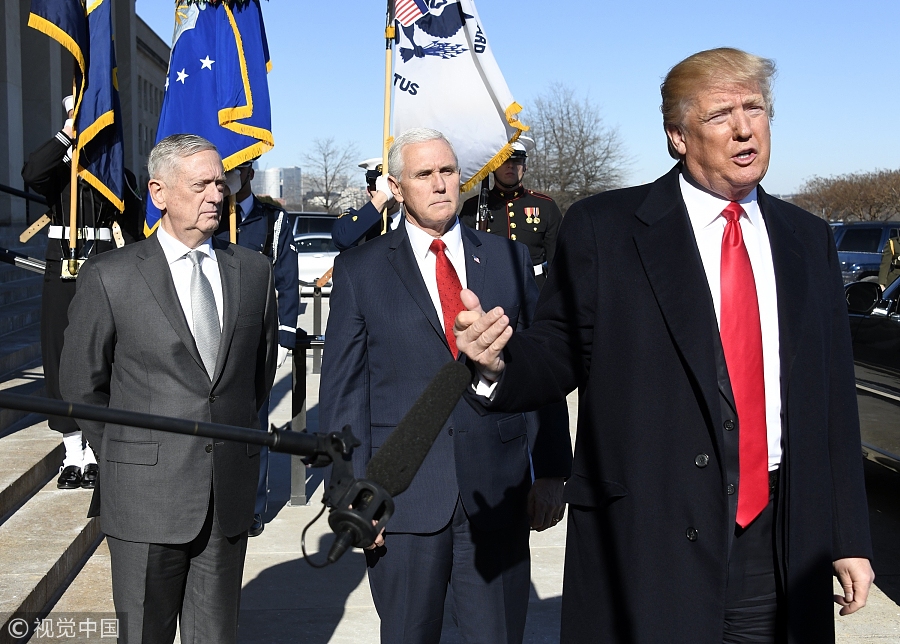 US Defense Secretary Jim Mattis' weeklong trip to Asia has caught global attention as it comes just two days after the Pentagon revealed its national defense strategy on Friday. Not surprisingly, it has been anticipated that his visits to Vietnam and Indonesia will set out new markers for US strategy in the Asia-Pacific.
However, rather than announcing a sharply different approach to that of the previous US administration, the signals given so far suggest the current administration simply intends to ratchet up the strategy pursued by its predecessor.
Although Mattis will likely refrain from referring to it in the same terms, judging by the US' recently released report on the strategic thinking of the Donald Trump administration, which views China and Russia as growing threats to the US, the trip is intended to reinforce the confrontational posture the US and its regional allies adopted toward China under the Barack Obama administration by bringing the two countries onboard its containment strategy.
Maritime cooperation tops Mattis' agenda during his trip, according to media reports, indicating that the Trump administration wants to project US power in the waters and fish for its own interests in the region with the help of others.
Certainly, Wednesday's incident in which the US guided missile destroyer USS Hopper entered the waters around China's Huangyan Island without permission offers further evidence that the US intends to stir up trouble again in the South China Sea.
When the Obama administration switched the US' focus to the Asia-Pacific and usurped the regional maritime disputes in the South China Sea as part of its rebalancing strategy, regional tensions rose to unprecedentedly high levels and cast a shadow over the efforts to enhance the cooperation between China and Southeast Asian countries. This looks to be the US' intention again.
However, as Indonesian Defense Minister Ryamizard Ryacudu has pointed out, the cooling down of tensions in the region is a positive trend that should be encouraged and China's demonstration of greater openness and willingness to cooperate for the good of the region should be appreciated.
Certainly, China and the members of the Association of Southeast Asian Nations have worked extremely hard to ease the tensions and realize their common wish to safeguard peace and stability in the region.
The patriotic chest-thumping embodied in the Trump administration's "America first" mantra defines American exceptionalism as it being the winner in a self-created global competition for primacy, which, with regard to its foreign policy, is determined by its relative military prowess and Cold War born alliance system. However, treating China as an adversary will not make the US feel great again, it will only feed the paranoia and insecurity that prevents it from coming to terms with the trends of the times.
Today's Top News
Editor's picks
Most Viewed