Bright future predicted for new energy cars
Share - WeChat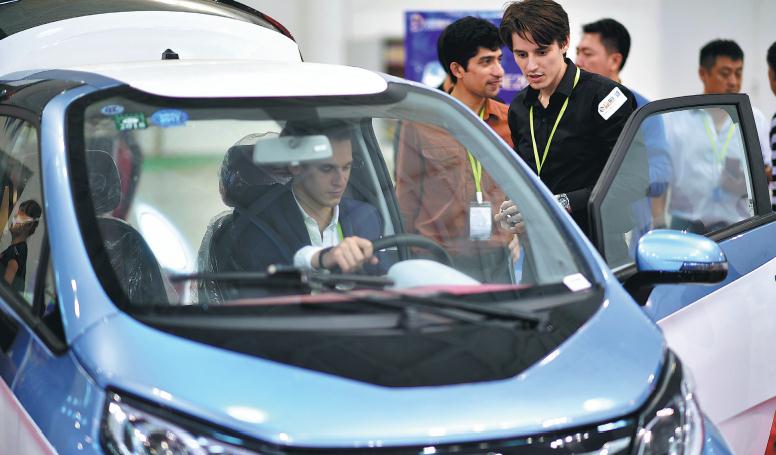 Chinese NEV manufacturers urged to innovate to survive in growing market
New energy vehicles have great potential in China, despite the gradual withdrawal of subsidies, with the numbers of electric cars, plug-in hybrids and fuel cell cars expected to account for half of car sales in China by 2030, according to a top expert.
Wang Binggang, an electric vehicle specialist who leads the National 863 Energy-saving and New Energy Vehicle Project, made the remarks when he addressed a forum held last week by the China Automotive Technology & Research Center in Liuzhou, Guangxi Zhuang autonomous region.
China has at least 1.6 million new energy cars on its roads, said Wang, citing statistics from the China Association of Automobile Manufacturers, the country overtaking the United States in 2015 as the world's largest market for such vehicles.
"Now we have a number of outstanding players," Wang said. "Globally there were 22 carmakers which produced more than 10,000 such cars last year, and 11 of them were Chinese."
BAIC BJEV, BAIC Group's electric car making arm, saw its sales in 2017 almost double to 103,199 vehicles. BYD sold 113,669 new energy cars last year, up 13.4 percent.
"The years from 2016 to 2020 will be a crucial period for new energy vehicles to jump up and the issue of how to promote them nationwide should be well considered," Wang said.
He added the time frame because China has announced its plan to stop subsidies on new energy cars by the end of 2020.
China has been offering financial incentives since 2010 to stimulate the popularity of new energy cars.
Wu Zhixin, vice-president of the China Automotive Technology & Research Center, said a subsidy-cutting plan is about to be released, adding that small and uncompetitive players will be wiped out faster than expected but outstanding performers would not be affected much.
"Good selling brands have good bargains from suppliers, and some are raising the prices of their cars a little bit, but the customers still love them."
China has 230 new energy car makers which combined are producing nearly 4,000 models, but less than 100 of them sell more than 1,000 units per year, according to statistics from the Ministry of Industry and Information Technology.
"What we want to see is a small number of outstanding carmakers that sell many cars instead of a large number of carmakers each selling few cars," Wu said.
"So cutting subsidies means pressure for poor performers, but it presents opportunities for innovative ones."
The picture Wu paints is almost the same case as in the sector for power batteries, with CATL and BYD taking the lead far ahead their competitors.
Yet Wu expects a lot more smaller manufacturers to die out in three to five years when the Chinese government stops its subsidies to them.
But after the fall, the market will start to gain momentum and rise again thanks to technological breakthroughs, said Wang Haoyong, vice-director of GAC New Energy Co's technological center.
He expects that by 2020 the mileage of electric cars to reach 600 km on one charge and that their costs will come close to conventional cars.
Like Chinese brands, international carmakers are also making big bets on China's growing market for new energy cars.
Volkswagen is planning to sell 400,000 units in 2020, with its first localized electric car to roll off the assembly later this year.
At least 15 new electric vehicles will be on offer from Ford and Lincoln by 2025, and its new joint venture with Chinese carmaker Zotye will deliver a range of affordable electric cars under a new brand.
Talking about the head-on competition between manufacturers, Ni Shaoyong, dean of Chery New Energy Automobile Research Institute, said that technologically Chinese cars will not necessarily lag behind, but he urged carmakers to build better brands.
"It can be that even the same car will have different prices when they bear different logos. In terms of branding, we still have much to do."