Luxury apartment builder Sinobo to focus on mix-use projects
Share - WeChat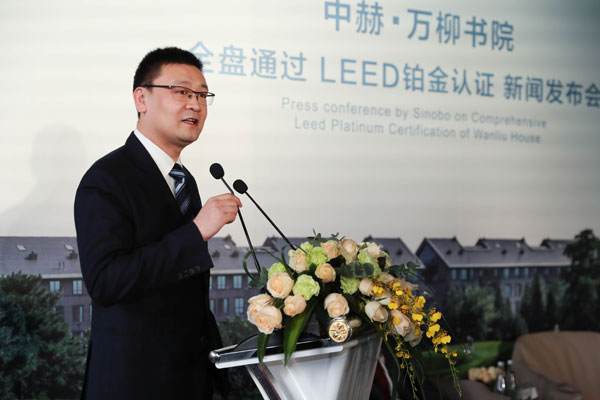 Sinobo Land, a Beijing-based real estate company specializing in building luxury apartments, is committed to developing more mix-use projects in the coming years.
"We will change our business model from selling residential projects to managing our mix-use projects (which usually include office, hotel and retail).And for 90 percent of newly added projects, we will keep the ownership rather than sell it," said Sun Peng, executive vice-president of Sinobo Group and co-president of Sinobo Land.
The company already has two mix-use projects in Beijing and will prepare land parcels for further development. All of the land parcels, according to Sun, are within the capital's forth ring road. And the company will commit itself to be environment friendly. Sun said the company will apply for LEED certificate for all the mix-use project.
The company's high-end residential project Wanliu House has just received a LEED Platinum certificate, becoming one of the only two residential projects to be awarded the certificate in China.
The business reshuffle of Sinobo, industry experts said, is also in line with the market trend in the real estate sector and the overall market situation.
Limited new supply pushed high-end villa sales down 15.4 percent quarter-on-quarter, according to a report by JLL, an international real estate service provider. Housing demand was restrained further as the tight-policy environment persisted in the fourth quarter of 2017, with banks in Beijing increasing mortgage rates by 10 to 20 percent over the benchmark lending rate for both primary and secondary homebuyers.
"Looking ahead, however, less land supply is expected for the high-end residential market as the local government focuses on developing the residential rental market and joint-ownership housing projects over the next five years," said Joe Zhou, head of research for JLL China.
Established in 2005, Sinobo Group has developed itself into an investment conglomerate operating in the high-end real estate, property management and sports sectors. In early 2017, Citic Group sold a 64 percent stake of Beijing Guoan Club to Sinobo, at a cost of 3.5 billion yuan.