The gym comes to you in the sharing economy
Share - WeChat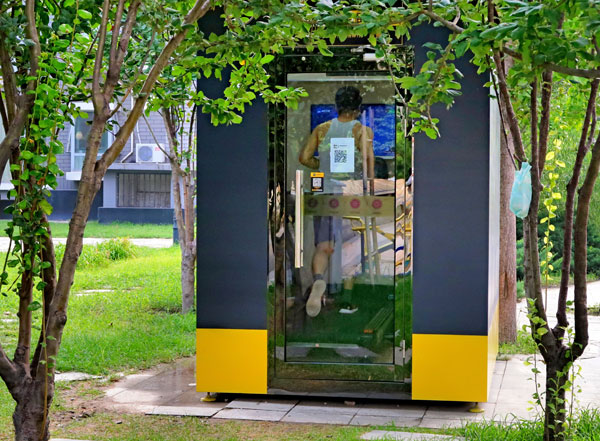 Thanks to the fast-growing sharing economy, fitness buffs needn't necessarily "go to the gym." Many can enjoy the luxury of the gyms coming to them.
As the daily commute between work and home in mega-cities is already tiring, not everyone likes to travel extra miles to the gym, which restricts gymgoers' choice of places to work out.
"Don't (take the) risk to sign up for membership if the gym is not within walking distance to home or workplace because you know you will never go," said Dong Fang, a 26-year-old Shanghai-based real-estate manager.
But a new business model inspired by the sharing economy is solving the dilemma. BULA, a yoga sharing-space platform founded by Naked Group, the Shanghai-based co-working space and high-end resort company, is bringing the workout place close to white collar workers.
"BULA is a three-sided marketplace-space owners, teachers and students," said Dominic Penaloza, chief innovation officer of Naked Group.
Similar to Airbnb, owners offer vacant space to BULA; teachers book the space and conduct pop-up classes while students can discover classes around them, giving them easy access to the available places and variable classes close to them on a pay-as-you-go basis.
BULA also gives users access to world-renowned yoga masters' classes, such as those held by Duncan Wong-once private coach of superstar Madonna, while neither teachers nor members need to worry about being bonded to a gym with a long-term contract.
"Our goal is to make fitness more accessible by enabling more convenient locations that bring teachers to students without large up-front payments," Penaloza said.
While BULA is offering pop-up classes around the city in Shanghai, another startup is bringing gyms to people's doorstep in Beijing.
Beijing-based Misspao Technology Co Ltd has built compact gym booths inside residential complexes within five minutes' walking distance for the residents.
The booth occupies only four square meters, making it easier and cheaper to build than traditional gyms. It can host one or two users at a time, equipped with a treadmill and a spinning bike that charges 0.2 yuan (3 cents) per minute instead of membership, similar to the sharing bikes.
"According to the research we conducted in Beijing, 10 percent of city workers have signed up for gym membership but only a few keep going there," said Bi Zhen, founder of Misspao. "Exercise has not become a habit because of the restriction of locations and equipment."
Qian Kun, general manager of Matrix Partners China, one of the investors of Misspao, said the advantage of Misspao is that it can provide fitness solutions with easy access to workout facilities in good condition.
"It has the potential to become a common facility of residential areas in the future," he said.
With a market value of 100 million yuan, the four-month-old startup has already sourced 75 million yuan investment.