Digital financial inclusion growing in China
Share - WeChat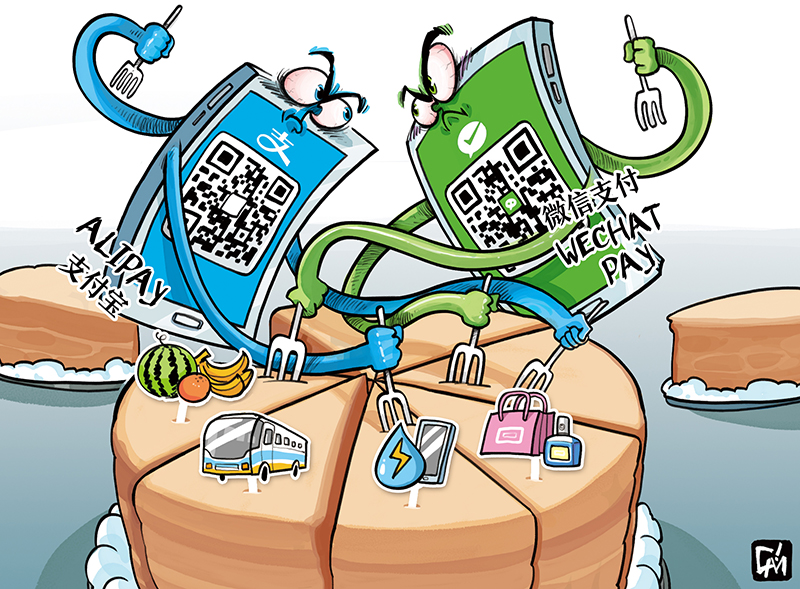 A newly released annual report by the United Nations articulates a difficult fact: more than 800 years after the emergence of the world's first bank, about two billion people are still out of the financial services umbrella, and more than 200 million small businesses in developing countries have no access to finance.
With the rapid development of digital technologies, digital financial inclusion is widely recognized as an effective way to fill the gap by authorities in advanced and emerging economies. Mobile payments, a success story in digital financial inclusion, play an important role for the poor around the world, and is now available in two-thirds of developing nations.
China has the infrastructure to nurture digital financial inclusion. The rapid spread of smartphones, wireless coverage and new digital products, players and platforms are dramatically changing the lives of ordinary Chinese. This applies even to those previously financially excluded, like peasants, the unemployed or micro and small business owners. Its far reach has reshaped the landscape of the finance industry and beyond.
China's digital ventures are now good at innovation instead of simple imitation. Chinese entrepreneurs used to simply benchmark overseas business models, but they are becoming better at rising to challenges in a Chinese context. For instance, WeChat, the instant online messenger as well as a subsidiary of Tencent — China's largest Internet company by revenue — has combined the Chinese tradition of giving "red envelopes" containing cash and modern digital tools, designing a new "virtual red envelopes" feature that helps transfer money between families and friends. It has gained considerable popularity among the one billion WeChat users around the world.
The boom of fintech giants has increased both access and use of digital financial services and helped millions of poor peasants out of financial exclusion. Alipay, the biggest fintech giant in China, has one third of its users from rural areas. JD Finance, a financial arm of JD Group that is the largest online seller in China, helped peasants from more than 300,000 villages to improve their economic situation in the year of 2017.
In Ningbo, China's first pivotal area and a financial inclusion model city, more than 3,200 financial service network points have been established in 2,273 villages by the end of 2017, covering all the towns and villages in this area. The electronic service platforms in these network points help Ningbo peasants enjoy virtual financial services such as cash management, money transfer and loan applications under the guidance and help of staff at the network points without visiting the traditional financial institutions.
People's Bank of China — Ningbo Branch has built a public mobile platform that provides finance services for fishermen and peasants in remote areas, from which credit loans to these two groups of people have surged 302 percent within a short time period. It has also built a digital credit information platform that collects credit information from local commercial banks, government departments, telecommunication companies and public service agencies. Over 7,000 daily credit inquiries are made by various stakeholders such as commercial banks on average. In particular, the credit system in rural areas has been greatly strengthened by the establishment of this digital credit information platform, and at present it covers 84.6 percent of the peasants in Ningbo.
According to a research report from the Center for Inclusive Finance Ningbo, digital payments in Ningbo have increased 184.6 percent from 2014 to 2016. Based on Ningbo's experiences, the development of digital tools not only gives traditional financial institutions and newly emerged financial technology companies the power to enable financial inclusion, but also generate positive impacts that go beyond the realm of the financial sector that drives development of society. Those who used to rely on the informal financing channels to release financial constraints, such as poor peasants, micro- and small business owners, unemployed people, the elderly and the disabled, are now included in the formal financial system.
Digital financial inclusion gives us an opportunity to build a better world for more people at lower cost. Nevertheless, the exponential growth of the financial technology industry has also cast shadows on financial consumer protection. The rise of online fraud, as well as a lack of data protection and digital privacy laws, is now threatening these positive developments. Striking a balance between application and protection of our personal information in the digital era is an important issue for everyone.
Jack Zhou is currently the research fellow and research project administrator of the Center for Inclusive Finance at the University of Nottingham in Ningbo China.
Xiuping Hua is an associate professor of finance at the University of Nottingham Ningbo China and secretary-general of the Centre for Inclusive Finance in Ningbo.
Most Viewed in 24 Hours
China Views