China-made VWs heading overseas
Share - WeChat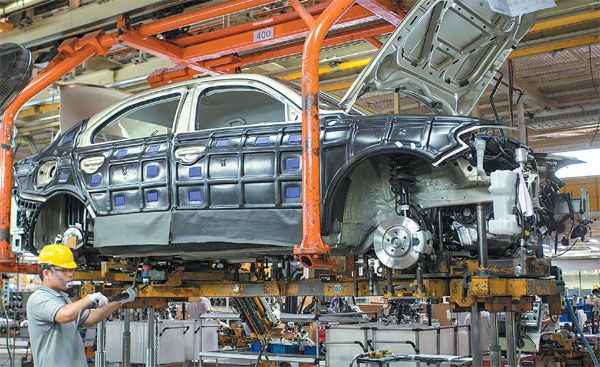 Pilot shipment is set to be sent to the Philippines this month
China-made Volkswagen cars will soon be exported to Southeast Asian markets, with a pilot shipment to the Philippines to be made this month, according to Volkswagen Group China.
A company representative said on Friday that it will be the first time China-made Volkswagen cars will be sold overseas, but he did not disclose the specific models involved or the number of cars in the shipment.
"The export models will be drawn from our lineups in market segments where we have a proven sales success. In general, it's an additional offer to the existing offer of Volkswagen in the Philippines. We want to expand the choice," the representative told China Daily.
The exports are part of a plan Volkswagen Group China has signed with its two Chinese joint ventures-SAIC Volkswagen and FAW-Volkswagen-to expand into overseas markets.
"The initial phase targets Southeast Asian markets. The export program is scheduled to get underway fully in March. The target is to deliver several thousand cars to customers annually in this region in the years to come," said Volkswagen Group China in a statement.
The company said the move reflects the international standard of its joint venture products and represents a new milestone in Volkswagen AG's relationship with its two longstanding Chinese partners.
Weiming Soh, executive vice-president of Volkswagen Group China, said: "It represents the next step in the ongoing expansion and development of our joint ventures and underscores the fact that their products can compete internationally."
Volkswagen Group China said the export program will be implemented in close coordination with the capacity utilization in other regions.
John Zeng, managing director of consulting firm LMC Automotive Shanghai, said the Volkswagen move may be targeted to better utilize its global production network to enhance its presence in the Southeast Asian region, which has been dominated by Japanese brands.
Volkswagen is by a long way the best-selling car brand in China, which has been its largest market worldwide.
In 2017, a record-breaking 3.18 million vehicles were delivered to customers in the Chinese mainland and Hong Kong, up 5.9 percent year-on-year, which almost doubled the overall car sales growth rate in China. More than 98 percent of them were made in China.
Volkswagen is not the first international brand to export China-made cars.
Volvo Cars finished its first shipment of China-made S60 sedans to the United States in 2015 and started exporting flagship S90 sedans to Europe and the United States in mid-2017.
General Motors exported its China-made Buick Envision SUVs back to the United States in 2016.