China's foreign trade up 14.2% in 2017
Share - WeChat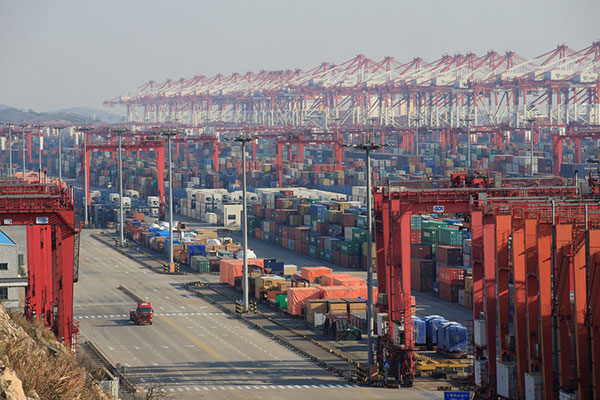 BEIJING — China's foreign trade volume rose 14.2percent year on year to 27.79 trillion yuan ($4.28 trillion), ending the previous continuous drop of the previous two years, official data showed Friday.
China's exports increased 10.8 percent to reach 15.33 trillion yuan while imports surged 18.7 percent to 12.46 trillion yuan in 2017, the General Administration of Customs (GAC) said.
The trade surplus continued to narrow last year, shrinking 14.2 percent to 2.87 trillion yuan, compared with a 9.1-percent reduction registered in 2016 that saw 3.35 trillion yuan in trade surplus.
GAC spokesperson Huang Songping attributed the double-digit trade volume growth to the global economic recovery, steady domestic economic expansion, rising commodity prices, emerging markets along the route of the Belt and Road Initiative and a low comparison base.
China's general trade has increased both in volume and proportion, expanding to 15.66 trillion yuan last year and accounting for 56.4 percent of total foreign trade.
The European Union, the United States and ASEAN are the top three trading partners of China, with exports to the United States rising 15.2 percent year on year.
Chinese private enterprises played a bigger role in trade last year, edging up 0.4 percentage points in its share of total trade compared with that in 2016.
The country's less developed regions, including central and western China and the rust belt, all outpaced the national average trade growth last year.
Trade growth faces pressure for the first quarter of this year as surveys showed falling confidence and new orders in December, according to the customs authority.
It will be difficult to keep double-digit trade growth this year given the many global uncertainties and a high comparison base, Huang said.