JD, Fives forge $119m smart logistics deal
Share - WeChat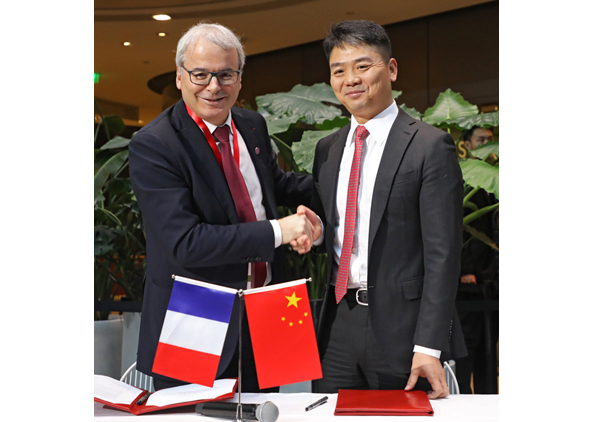 Fives Group, a French company specializing in industrial engineering, will supply equipment worth over 100 million euros ($119.28 million) to smarten the logistics of JD, a Chinese online marketplace, in coming years.
On Tuesday, Fives announced the deal as part of its China foray. JD has already introduced Fives' sorting technology at its warehouses in Beijing, Kunshan and Xi'an, thus making them "intelligent".
Similar value-addition will be made to JD warehouses elsewhere, helping the company to become more efficient and cut labor cost.
Frederic Sanchez, chairman of Fives, said the company is hoping to make more breakthroughs from its partnership with JD, particularly in the fields of technology innovation and intelligent digital technology.
"Today's innovation collaboration is no longer a one-sided technology transfer or limited to traditional sales and purchases, but is aimed to create a win-win situation and joint strategies," said Sanchez.
Fives designs and supplies machines, process equipment and production lines to industries like aluminum, steel, glass, automotive, aerospace, logistics, cement and energy. It has over 8,600 employees in more than 30 countries and regions.
"The opportunities come from China's ongoing consumption and industrial upgrading. The country is catching up fast with advanced economies in adopting and fostering the internet of things or IoT, to make manufacturing and services more efficient and competitive," said Li Guanghui, vice-president of the Chinese Academy of International Trade and Economic Cooperation in Beijing.
Efficient logistics is key to China where retail sales in the first 11 months of last year rose 10.3 percent to 33.15 trillion yuan (about $5 trillion), same as the growth in the January-October period.
The steady growth was partly due to booming online sales, which surged 32.4 percent year-on-year in the first 11 months, according to Commerce Ministry data.
"This is a major cooperation in innovative smart logistics against the backdrop of comprehensive strengthening of bilateral economic and trade cooperation. It will not only promote long-term development of e-commerce globally but also have positive impact on the strategic goal of increasing the standard of industries and manufacturing in the two countries," said Michelle Shan, Fives' country director for China.
Liu Qiangdong, founder and CEO of JD, said the online shopping company would strengthen its cooperation with French companies and boost trade relations between China and France.
JD announced its plan to sell French goods including fashion, wine, dairy and other agricultural products worth 2 billion euros over the next two years.