Govt releases policy to ensure zero growth of capacity in major industries
Share - WeChat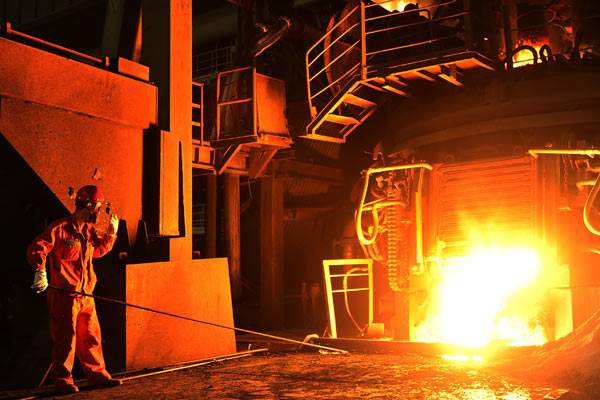 The government has released new policy to ensure zero growth of production capacity in steel, cement and plate glass industries and to continue capacity replacement measures this year, Economic Information Daily reports, citing the announcement of the Ministry of Industry and Information Technology (MIIT) on Monday.
In environmentally sensitive areas of the Beijing-Tianjin-Hebei region, the Yangtze River Delta and the Pearl River Delta, steel plants should reduce at least 1.25 tons of outdated capacity for every 1 ton of new capacity and in other areas outdated capacity decrease should surpass new capacity increase.
In terms of replacing outdated capacity, a replacement plan must be publicized before a new steel project is put on record, and replaced equipment must be dismantled before a new steel project starts operation.
In cement and plate glass industries, a new project of outdated capacity must be shut down before operation and removed and aborted within one year's operation.
The aim of the new policy is to clarify scale of overcapacity replacement in order to stop certain companies making illegal use of vague replacement scale and not strictly implementing the ratio of production capacity replacement requirements in steel industry, said Xu Wenli, head of the Iron and Steel Division at the Ministry of Information and Technology.
Industrial insiders also said that illegal phenomenon in cement clinker project construction also exists and the new policy can strictly regulate capacity design based on capacity replacement index.
Steel profits improved amid capacity cuts with combined net profits in the ferrous metal smelting and rolling sector increasing180 percent year-on-year to about 314 billion yuan ($48 billion) in the January-November period last year, according to a MIIT statement.
Profit in cement industry reached 33.36 billion yuan, up 248 percent year-on-year and profit in plate glass industry was 5.33 billion yuan, up 85.1 percent year-on-year in January-June period last year, according to the latest statistics from MIIT.
The government must focus on quality and profits while cutting overcapacity in these sectors, according to MIIT.
The new policy regulating capacity replacement in steel, cement and plate glass industries came into force on January 1, 2018.