Accord to bolster global sales of Chinese planes
Share - WeChat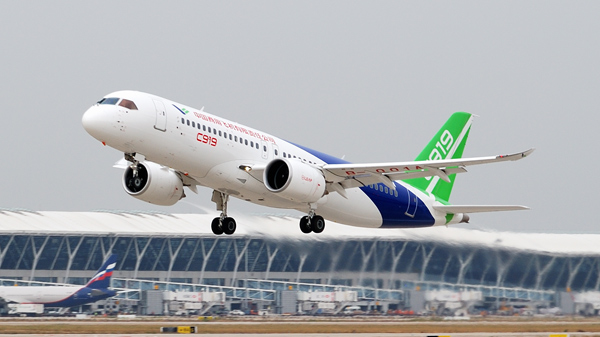 A new agreement with Washington will help pave the way for Chinese-made airplanes like the C919 commercial jet to achieve greater sales worldwide, a senior official from China's civil aviation watchdog said in an exclusive interview.
The agreement has created a positive environment and streamlined procedures for Chinese aeronautical products to enter the international market, said Xu Chaoqun, head of the airworthiness certification department at the Civil Aviation Administration of China, in an written interview with China Daily.
The agreement, the Implementation Procedures for Airworthiness, took effect on Oct 17, 2017. It was established under the Bilateral Aviation Safety Agreement between China and the United States, signed in 2005.
The agreement, signed between China's Civil Aviation Administration and the US Federal Aviation Administration, says aviation authorities from both countries would certify and validate the regulatory standards for aeronautical products from the two countries.
"The agreement will promote the development of China's aircraft industry, in particular encouraging domestically made aeronautical products to enter the global market," Xu said.
"The Civil Aviation Administration of China encourages and supports Chinese companies to apply for FAA validation of Chinese products, including ARJ21 and C919 from the Commercial Aircraft Corp of China," Xu said.
The C919 is China's homegrown narrow-body jet, which has made several test flights recently and already has received 785 orders from domestic and international customers.
The ARJ21 is China's first homemade regional jetliner. "The C919 has the potential to be exported to other countries over the long term," said Li Xiaojin, an aviation economics professor from the Civil Aviation University of China in Tianjin, adding that the jet won't affect major US and European aircraft manufacturers in the short term.
The new accord replaces and terminates the previous agreement, the Schedule of Implementation Procedures, which had been signed in 1995.
"The major difference between the old and new agreement is the range of validation of aeronautical products between both countries. With the SIP, China validated all US products, but the US only validated 23 jetliners and some parts," Xu said.
"The new agreement shows reciprocity and equivalence when it validates aeronautical products from both countries ... using the terms 'certification authority' and 'validating authority' to state the rights and obligations of both parties."
However, it does not mean that a CAAC certified jet would be automatically validated by the FAA.
"The airworthiness procedures will be carried out differently based on various types of products. ... Few products can be accepted without validation," Xu said.
China and the European Union signed a draft agreement on airworthiness in December.