Nio, GAC set up joint venture to develop smart car business
Share - WeChat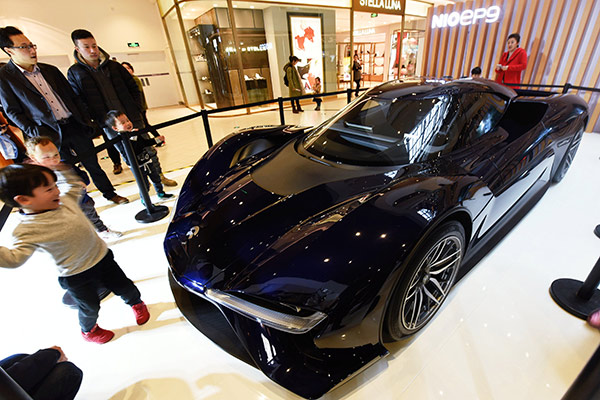 A conventional and an emerging carmaker have joined hands in Guangzhou to market what may be the first mass-produced electric vehicle by a Chinese technology startup, in hopes of boosting the companies' value.
"We are heading towards the direction of intelligence, connectivity, electrification, and sharing, and making breakthroughs through the partnership," said Feng Xingya, general manager of GAC Motor.
Li Bin, founder and chairman of Nio, said, "The joint venture will operate in light asset mode and devote to research and development and customer service.
"We will make full use of the production base of GAC New Energy Co."
Guangzhou-based GAC Motor announced on Thursday that a joint venture will be established with Nio for intelligent connected vehicles' research and development, parts manufacturing, selling and service and car-sharing services.
Nio, an electric carmaker founded in 2014 by Chinese internet entrepreneurs, and GAC Motor will invest a total of 1.28 billion yuan ($196 million) for 45 percent share each in the new joint venture and will leave 10 percent for the future core management team. The coming GAC Nio New Energy Vehicle Co will have a registered capital of 50 million yuan.
The partnership is intended to boost the companies' performance in the capital market over the long term, Yale Zhang, managing director of Shanghai-based consulting firm Automotive Foresight, told China Daily.
"GAC is expecting some inspirations in connectivity from the younger counterpart, while Nio might be preparing itself for the versatile future possibilities," Zhang said.
"Besides selling vehicles, Nio is describing a future (in which) the operating system could be widely applied in conventional carmakers' products," Zhang added.
The partnership won't benefit the companies' manufacturing or research and development in the near future, according to an automobile analyst who declined to be named. The analyst said Nio allied itself with the manufacturer to promote its concepts of intelligence and connectivity and elevate its brand image.
"GAC Motor is a listed company, and Nio is seeking investments and listing opportunity. They both have the impulse to drive the company value upwards by promoting concepts," said the analyst.
Nio has been working with several companies, including Chongqing Changan Automobile Co, Tencent Holdings and Continental AG. However, their only mass-produced model, the Nio ES8 electric sport utility vehicle, is solely manufactured by Anhui Jianghuai Automobile Co in its Hefei plant.
"The electric SUV models are accepted by customers only when they need SUVs, but have to turn to an electric vehicle for free car plates," said Cui Dongshu, secretary-general of China Passenger Car Association, at SUV Market Trend and Solution Seminar held in Beijing on Thursday.
Xu Xiangyang, a professor at the automotive engineering department under Beihang University, said at the seminar: "The emerging electric auto makers are mostly working on SUV models for a bigger room to develop. There's still big potential in the price ranging from 200,000 to 400,000 yuan.
"SUV is a model suitable for electrification, for a battery pack at the back helps the vehicle stabilize in running," he continued.