Rules set for bar code, QR code payment
Share - WeChat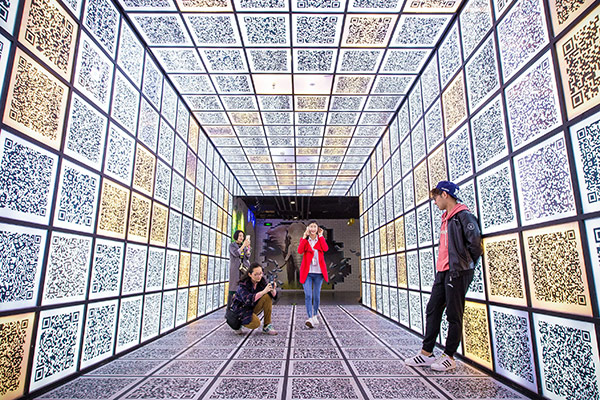 Bar code and quick response code payment, which has already become indispensable in most Chinese people's daily lives, will finally enter an officially regulated new era after six years of trial operations.
The People's Bank of China, the nation's central bank, released two guidelines late on Wednesday on the operational rules and technical specifications for bar code and QR code payment methods.
Under the new guidelines, QR codes are divided into static and dynamic ones. Banks and payment institutions are required to set three levels of daily transaction limits for users based on their demand and risk prevention capacity-500 yuan ($77), 1,000 yuan and 5,000 yuan.
Payment service providers offering QR code payment are required to obtain a permit from the central bank. All such transactions will be settled via a clearing system supervised by the central bank.
The central bank also set technical requirements on QR code encryption, transaction verification and information protection to prevent hacker attack and customer privacy leaks.
The regulations will take effect on April 1, 2018.
According to the central bank, the regulations have been introduced as scan-and-pay behavior has become widespread in China with the wide adoption of tokenization technology. People use such services to pay for a coffee, taxi-hailing service or even at the greengrocery.
Statistics released by the central bank in early December show that up to 49.3 trillion yuan worth of transactions were settled via mobile devices in the third quarter of this year, which is up 39 percent year-on-year. About 80 percent of these transactions were completed on non-bank payment platforms, mainly through scanning QR or bar codes.
Alipay, the online payment arm of e-commerce giant Alibaba Group Holding Ltd, took up more than 53 percent of China's mobile payment market by the third quarter of this year, according to Beijing-based market research firm Analysys.
Its long-time rival Tenpay of Tencent Holdings accounted for a market share of around 40 percent.
Tang Kok San, general manager of London-based payment service provider Worldpay in China, said that China's transformation into a no-cash society has been extremely impressive. The public's reduced reliance on cash is a combined result of smartphone applications, mobile payment methods such as QR codes, and digitalized payment at public service facilities.
"But there are still no consolidated business regulation and technical specifications for code scanning payment. There will also be risks in the process of generating and transmitting codes," said the central bank.
Security concerns have been expressed with regard to the increasing number of payment scams recently, which include replacing the merchants' legitimate codes with those linked to the scammers' accounts, or embedding viruses to steal users' personal information.