Italian chef brings white truffle treasures to Beijing
Share - WeChat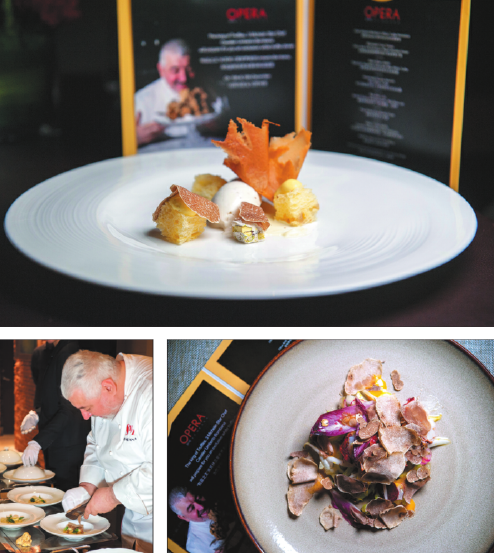 A difficult harvest and soaring prices couldn't stop Italian chef Umberto Bombana from bringing his famous white truffles back to Beijing. Li Yingxue reports.
A summer of heat waves and droughts in Alba, Italy, has wrought havoc with this season's harvest of white truffles in the region, making them more difficult to gather in early winter.
As one of the most popular and priciest ingredients in the world, white truffles need both the rain and cold to thrive, and are only available during a very short season-and this year's unfavorable climate conditions have not only hit the harvest but forced prices up sharply.
But Italian Michelin-starred chef Umberto Bombana has returned to his Beijing restaurant, Opera Bombana, with handfuls of the fresh and precious delicacy to please food lovers this winter.
"Each year at this time, there is one ingredient shining with its metallic pattern, intoxicating scent and luxurious flavor-the white truffle," says Bombana, who is also known as the "King of White Truffles" in culinary circles.
It's no easy feat to transport fresh truffles across continents. Bombana has to consider the change in temperature, humidity and altitude, and how the truffles may react to anoxic environments.
Together with Marino D'Antonio, executive chef of Opera Bombana, the award-winning Italian chef designed a special white truffle menu for guests at the restaurant on Dec 15-16.
Warm blue lobster with a vegetable salad and Alba white truffles opens the menu, with the roast lobster setting off the scent of the truffles to perfection. Bombana personally presents and slices the truffles for his guests.
Instead of pasta, Bombana chooses to use another traditional Italian food, homemade ricotta gnocchi, to go with the white truffles this year. The paper-thin truffle slices covering the gnocchi are exquisitely presented.
Bombana says that trifola d'Alba go well with all kinds of pasta, risotto or eggs, and the reason he uses ricotta gnocchi is that it has a smooth flavor that leaves a special sensation on the palate.
A dessert of white truffles with gelato and creme chantilly, nougat and crisp chestnuts rounds off a refreshing close to the meal. The different textures combine together as the truffles provide the finishing touch to the dining experience.
On Sept 24, Bombana received the Order of Merit of the Italian Republic at his 8½ Otto e Mezzo Bombana restaurant in Hong Kong, the only Italian restaurant outside Italy to hold three Michelin stars for six consecutive years.
The award, also known as OMRI (Ordine al Merito della Repubblica Italiana), is the highest-ranking award for those who have distinguished themselves in the fields of literature, the arts, the economy or public service, and this is the first time that an OMRI has been awarded to an Italian chef in Hong Kong.
"In my hometown of Bergamo in northern Italy, only Olympic gold medal winners are given this award. It really is the most important honor for me," says Bombana.
He also won The Diners Club Lifetime Achievement Award by Asia's 50 Best Restaurants earlier in February to honor his service of almost a quarter of a century of cooking in Asia.
In a statement released by Asia's 50 Best Restaurants, they write "his (Bombana's) seasonal truffle menus have become a luxury-dining fixture for Asia's wealthy but discerning gourmets".
It's the first time Bombana has returned to Beijing since winning these awards, and he is quick to notice that his guests have grown more accustomed to delicacy. As the worldwide ambassador for the white truffle, he is delighted with the development.
"Back in 2013, local customers would order truffles just to have a try. But now many of our guests have visited Alba and know all about the truffles from the region," Bombana says.
Sharing the same hometown as Bombana, Antonio is happy to work alongside one of the best Italian chefs in the world. "I learned to understand the importance of ingredients from him and I'm slowly getting closer to his vision," says Antonio.
Antonio also thinks customers at Opera Bombana now understand a lot more about Italian food than when it first opened in 2013. "They have high expectations of our food now, and they know all about pasta."
According to Bombana, this year's supply of Alba white truffles is only one-fifth of the usual annual delivery. Yet, despite the higher prices, he insisted on serving his special white truffle menu at the same price as last year.
"Because our guests appreciate white truffles at this season of the year, I want to give them the same experience as usual."
Bombana believes a good restaurant needs to make its customers smile and want to come back again.
"Dining is a full experience that not only involves beautiful menus but also elements such as ambience, service, lighting, interior design, and many other details," Bombana says.
Contact the writer at liyingxue@chinadaily.com.cn
Most Popular