Houston to benefit from huge delegation to China
Share - WeChat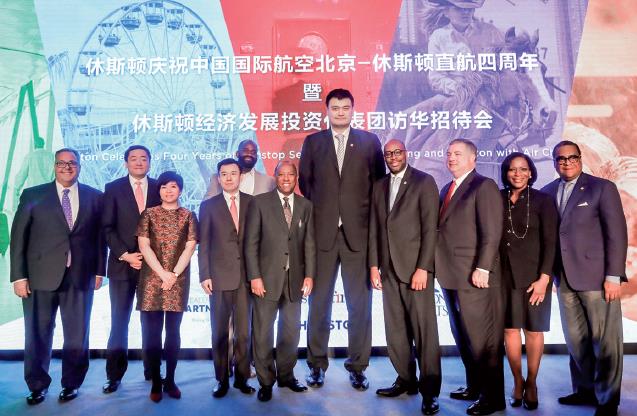 Houston made a little history in China.
For the Texas city, its trade and goodwill mission to China in the first week of December was the largest ever - 71 officials, community leaders and business leaders joined the group.
And for Mayor Sylvester Turner, it was his first trip to China.
"I got the chance to meet with the vice-mayor of Shanghai, mayors of Beijing and Shenzhen, and a number of high level officials," Turner told China Daily. "Everywhere we went, people were very approachable and supportive. I expect a lot of business arrangements between China and Houston."
During the weeklong trip, the delegation held conferences to present business and investment opportunities in Shenzhen, Shanghai and Beijing. Texas state Representative Gene Wu, and Houston City Council members Greg Travis and Larry Green joined the delegation.
"Chinese businesses are discovering that Houston is uniquely positioned as a hub for doing business all across the Americas," said Bob Harvey, president and CEO of the Greater Houston Partnership. "These global leaders realize that Houston is not only an ideal location to invest in, it is a strategic ecosystem for the exchange of technology, expertise and best practices with other global partners. That's why we are seeing companies from China - and from all over the world - establishing their regional headquarters in Houston."
The trip was fruitful. Possible collaboration in the fields of healthcare, energy, engineering, education, finance, aeronautics and other key areas was explored. A series of official memoranda of understanding expressing specific plans to widen commerce with China were signed.
In Beijing, Houston's goodwill ambassador, former NBA Houston Rockets star Yao Ming, joined the delegation to help promote his former city. There, the Greater Houston Convention and Visitors Bureau (GHCVB) signed a strategic agreement with Ctrip, a Chinese provider of travel services, and its New York-based subsidiary L & L Tour.
Leo Yao, Asia-Pacific representative at GHCVB, said the agreement will help Houston to better serve visiting Chinese.
"We began a conversation in February and Ctrip thought that Houston had great potential to explore. This agreement will help us to work together strategically," Yao said.
According to CGCVB, Chinese people visiting Houston spend an average of $5,000 per person per trip.