Dream e-vehicles cut pollution
Share - WeChat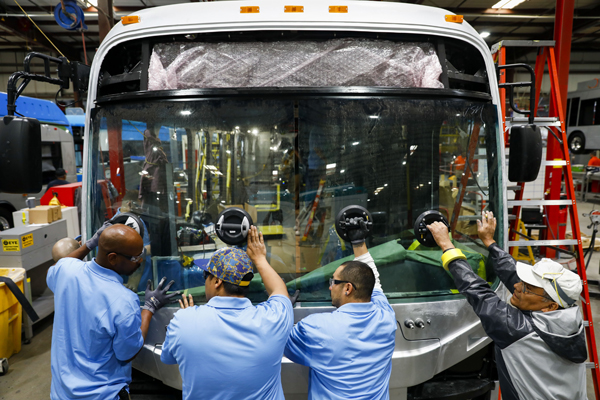 Japanese city latest to buy BYD's electric buses that power 200 cities globally
In November, China's electric vehicle maker BYD, which stands for "Build Your Dream", delivered 10 K9 buses to Naha city in Okinawa, Japan's southernmost prefecture.
The contract marked a new milestone in BYD's overseas growth, and confirmed it is the first Chinese vehicle maker to taste success in Japan, a market that has spawned global auto brands.
Back in 2015, BYD sold five K9 electric buses or e-buses to Kyoto. That was a breakthrough because Japan is known for its manufacturing excellence and stringent requirements for technology and quality.
The Naha bus order came on the back of a boom in local tourism. In recent years, cruise ships have brought an increasingly large number of foreign tourists. Now, for the first time, BYD's e-buses will ferry tourists around in Okinawa.
BYD will likely be asked to supply more such buses in future. The company first appeared on Naha's radar when Yoshitaka Matsuda, president of the local Ships Agency, an agent for foreign cruise companies, was looking for shuttle buses.
Japan's Mizuho Bank introduced Matsuda to the K9, an electric bus powered by BYD's self-developed iron-phosphate battery. In its class, the e-bus features the longest drive range of 250 km on one single charge under urban road conditions.
Matsuda visited the Shenzhen-based BYD to see if the K9 fits in with his larger goal of emission-free road transport for tourists in Okinawa. BYD's electric taxis in Shenzhen impressed him. He was immediately overwhelmed by Shenzhen's fresh air and strategy for environmentally friendly development.
Matsuda looked no further than the K9. In his words, the bus can help Okinawa to preserve or even improve its environment.
Ships Agency plans to buy 80 more K9s in 2018-40 for Naha and the other 40 for Okinawa's second-largest island, Miyakojima, where a port is to be built.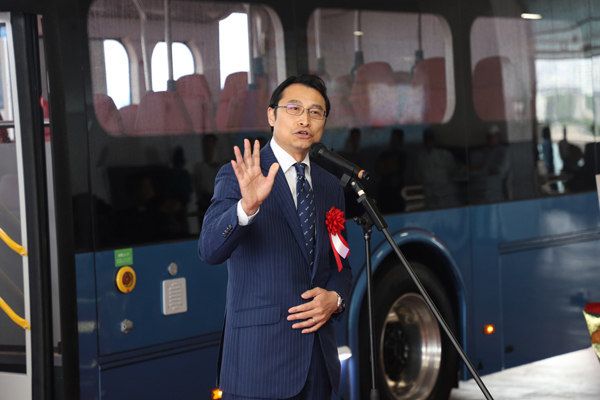 Aiko Shimajiri, assistant to Japan's minister for Okinawa affairs, said the e-buses, which run quietly and are environmentally friendly, will help Okinawa attract more tourists.
Taking advantage of Japan's engineering excellence, BYD acquired a mold factory from Japan's Ogihara Corp in 2010. The factory, which is located in Tatebayashi, Gunma prefecture, has more than 100 Japanese technicians. It is now one of the sources of BYD's quality auto molds.
"Before BYD, no Chinese company acquired Japanese manufacturing companies. BYD's factory in Japan helps improve the looks of our vehicles," said Liu Xueliang, general manager of BYD's Asia-Pacific auto sales division.
Before its e-vehicles made inroads into Japan, BYD first trained Japanese drivers in how to operate the buses, particularly in aspects like battery recharge and smooth ride.
"During our first trip to Japan, we had talks with Japanese drivers. We also visited after-sales facilities to have a good idea of their management of spare parts. After the preparations and investigations, we returned to Shenzhen to produce the five K9 e-buses for Kyoto," Liu said.
"The delivery of the K9 buses in Okinawa means a great recognition for BYD as well as for China's technology and quality."
BYD's major business lines span rechargeable batteries, new energy automobiles, and new energy industries-all sunrise industries.
BYD now leads the global e-vehicle manufacturing segment. In 2008, BYD introduced hybrid car F3DM, the first model that does not rely on professional charging stations but can be charged using normal electricity. It later launched e-car E6 and e-bus K9.
With its K9 and E6, BYD has been knocking on the doors of the public transportation sector overseas.
Its first e-bus was deployed in 2010. In both 2011 and 2012, BYD received e-bus orders from other countries. It rolled out its e-buses in Chicago in September 2011 and several cities in South America in 2012.
In Europe, London was the first city to accept fully electric buses made by BYD. Such e-buses are now found in Spain, the Netherlands, Poland, Finland, Serbia and Denmark.
Liu Xueliang said BYD's global footprint now covers more than 200 cities across 50 countries and regions, helping cut both noise and air pollution.