Matcha Magic
Share - WeChat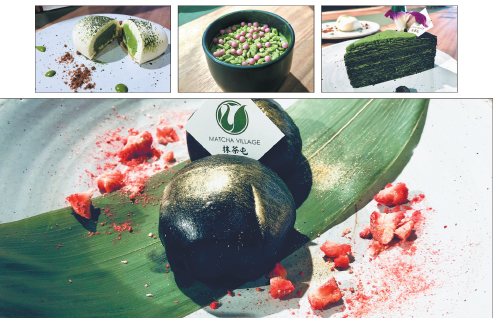 A new outlet in Beijing's Sanlitun area is reviving an ancient Chinese tradition. Li Yingxue reports.
As Japanese-style matcha desserts or drinks can be easily found in Beijing's cafes, and Japanese matcha shops are even spreading throughout the capital, many may wonder if the powder is an imported item from Japan.
But the fact is that matcha was introduced from China to Japan in the ninth century.
And, now, matcha chocolate truffle, matcha cookies, matcha pudding, matcha cheese tarts, vanilla matcha lattes and matcha ice creamall made with matcha powder produced in China - are available at Matcha Village in Beijing's Sanlitun area.
"We want to gather people who are in love with Chinese matcha," says Wang Zhibin, general manager of Matcha Village and president of the American-Chinese Catering Industry Association.
"Matcha has more than 1,000 years of history in China, and we want to revive it."
Matcha is finely ground powder of specially grown and processed tea leaves.
During the Tang Dynasty (618-907), people steamed and formed tea leaves into bricks for storage and trade. Then in the Song Dynasty (960-1279), the method of making powdered tea was invented by whipping the tea powdered from steam-dried tea leaves and hot water in a bowl.
This skill of powdered tea and matcha making then reached Japan, where it was included as an important item at Zen monasteries and mixed with other foods, drinks and cosmetics.
Most Popular