DUFL booms as bilingual talent hub
Share - WeChat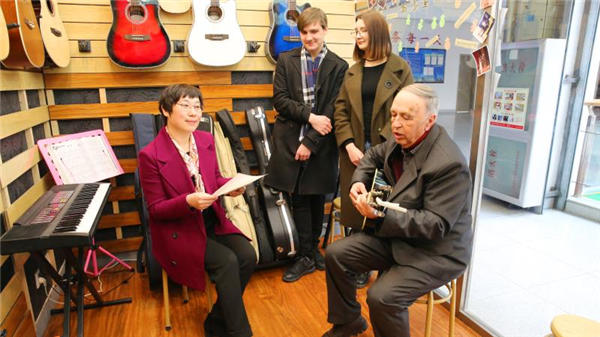 When Dalian University of Foreign Languages set up a Confucius Institute in Medellin, Colombia, in 2010, it brought new hope to a young local man named Juan Mateo Maya.

Maya, who was 18 years old, was a college student majoring in engineering. He had little interest in the subject and was thinking of learning Mandarin.

One day while wandering along the street, he came across the newly established institute and registered immediately.

"Soon, I realized that the Chinese language was my true love. So I suspended my college studies and tried to concentrate on learning Chinese," Maya recalls.

In his second year, he won a Confucius Institute scholarship to study at the DUFL in Dalian, Northeast China's Liaoning province.

"Established in 1964 as a college specializing in Japanese language learning, the DUFL has grown to be a comprehensive university which has cooperative relations with more than 200 colleges and universities in over 30 countries and regions around the world," says Liu Hong, president of the DUFL.

According to her, students can learn Japanese, English, Russian, French, German, Korean, Spanish, Arabic, Italian and Portuguese at the DUFL. It also accepts overseas students who win scholarships from the Chinese government or from the Confucius Institute.

Since 2007, the university has set up nine Confucius Institute branches in Russia, Japan, South Korea, Colombia, Guyana, Brazil, Armenia, Portugal and Italy.

"I love the DUFL. When I completed my studies and returned to Colombia, I felt I had improved myself, and I dreamed about coming back to China again," says Maya.

Luckily enough, Maya attended the 14th Chinese Bridge Chinese-proficiency competition for foreign college students in 2015 and won the championship of the Americas.

He was awarded another scholarship from the Confucius Institute Headquarters in Beijing to study for a bachelor's degree at a Chinese university.

"The DUFL is like my family, so I chose to come back to Dalian," says Maya.

"I will always be grateful to China, especially the Confucius Institute and the DUFL, for reshaping my future," he adds.

The president of the university is proud of the student.

"We are striving to cultivate more bilingual talented people like Maya to serve the country's new Belt and Road Initiative," says Liu, president of the university, which is located in Dalian city, a key Chinese seaport.
Most Popular