Young celebrity to lend a hand to those in need
Share - WeChat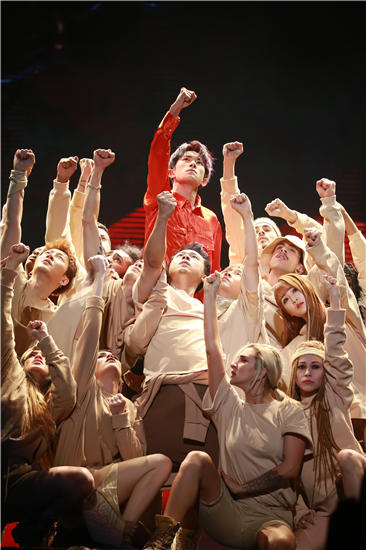 Yi Yangqianxi may be a member of popular Chinese boy band TFBoys but he has also been moving beyond the youth celebrity set to take on a global role to present a positive and progressive image of his generation.

The singer, dancer and actor, also known as Jackson Yi, turned 17 in late November.

A month before, he gave a speech in Geneva as one of the four youth leaders from China at the invitation of the World Health Organization, calling for the elimination of AIDS discrimination. Shortly after, he, together with the rest three, was awarded the title of WHO China's special envoys for health.

In his speech on "embracing difference and eliminating discrimination with care", he said: "The only thing we need to fear is the lack of proper knowledge and information."

Yi says people with HIV/AIDS deserve to be well educated and to speak out when faced with discrimination.

"In fact, people and children living with HIV are no different from any other person coping with another illness. People need to protect themselves and treat others the right way," he says.

Yi's birthday is three weeks after that of his teammate Wang Yuan. At Yi's birthday party, he sang two popular English songs-Nothing to Lose and Unpredictable.

He recently released the two songs, working with top international producers including US songwriter Harvey Mason Jr. and some artists from the late pop icon Michael Jackson's team. The dance routines and singing skills were higher than what was expected of Yi's age, mirroring his rapid development in the past few years.

Yi started on his road to stardom when he was 5, taking part in a number of talent shows.

During a previous interview, he said he did not want to live a "normal life" and would like to work toward a "better self" on the path he has chosen.

In 2012, he took part in the Hunan TV reality show Up Young and was among the top 100 candidates, attracting the attention of the Time Fengjun Entertainment group.

He got invited to an audition, which led him to TFBoys the following year.

In September, the China Foundation for Cultural Heritage Conservation named Yi as the first "image ambassador and protector of the Great Wall of China". Earlier this year, he was made a tobacco control envoy for WHO to help keep young people away from the harmful effects of smoking and work together to create a clean and healthy environment.
Most Popular