South San Francisco elects first Chinese-American mayor
Share - WeChat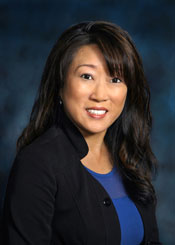 Liza Lau Normandy has been elected mayor of South San Francisco, the first Chinese-American to be elected in the city's 110 years history, according to World Journal.
The incumbent mayor Liza, 44, is the youngest one among the five city councilors of South San Francisco and one of the three Asian-American councilors, including the deputy mayor Karyl Matsumoto and an Indian-American one. The other two are white men.
Liza served as board president on the South San Francisco Unified School District Board of Trustees from 2008 to 2010 before she was elected into the City Council November 2013.
She was the first Asian-American elected to the School Board, was the second Asian-American elected to the City Council, and only the third woman to serve on the South San Francisco City Council.
Liza said her father was born in Guangdong province of China, and immigrated to Los Angeles when he was young, and her mother came from the Republic of Korea.
Asian-Americans account for 36 percent of the population of South San Francisco, a bay area city with diverse population amounting to 63,000, according to the official data released in 2010.