Creativity hub breeds the tech pack of tomorrow
Share - WeChat When Macao entrepreneur Vincent Chou planned to establish an e-commerce technology startup two years ago, he almost hit the buffers - it was difficult gathering IT talents in Asia's gaming mecca.
But today, he has realized his dream by combining his strengths in Macao with sources in Zhuhai city, just a stone's throw from the enclave, in Guangdong province.
"I had a team of only 10 employees in the beginning and it has now grown to 116, mostly from the Chinese mainland," recalls Chou. "Talent is an important factor in shifting my startup to the mainland."
Chou's project received a shot in the arm in 2015 when Zhuhai launched its Inno Valley HQ in the Hengqin Free Trade Area for startups and innovators from Guangdong, Hong Kong and Macao. He was among the first batch of entrepreneurs to start their operations in the incubator back then.

In its infancy, the incubator provided him an office of 700 square meters for free in the first year, enabling him to save about 1.5 million yuan ($0.23 million).
It adopts Macao's tax system for Macao residents, whose startups could apply to pay tax in Macao, a policy applauded by Chou.
His startup Hengqin Bringbuys IT Co developed a mobile phone application allowing users to make an order simply by tapping on pictures. It's designed especially for internet celebrities to share their recommendations and usage experience through photos.
"But, Bringbuys is not an e-commerce platform," explains Chou. "It's actually a tool to service those platforms." Once users click on the links embedded on shared photos, they would be guided to e-commerce platforms, such as JD.com.
In addition, the app can also analyze the data of what products their fans have purchased so that they can adjust recommendations according to fans' preferences.
According to Chou, once a new order is made, the recommender could get a commission provided by the e-commerce platforms, but he stresses that his company won't take any portion of it.
Bringbuys charges a service fee of 298 yuan ($45) for premium members who want to publish articles and earn a commission, but it's free for other users. So far, it has accumulated about 200,000 paid members.
The company began raking in a profit in April this year.
Recently, it opened a new experience center designed particularly for internet celebrities. Covering an area of nearly 2,300 square meters, the center offers a site for them to host events, an exhibition room to try out popular products and even a studio to live-stream with fans on site.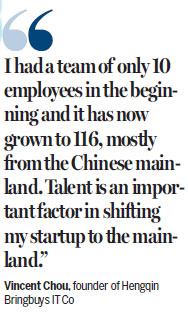 The 34-year-old entrepreneur says the venue is also supported by Inno Valley HQ as it would be very difficult for a company to rent such a large space in Macao in its early stage.
Bringbuys isn't the only startup attracted to the cradle. Within two years, the Inno Valley HQ has incubated more than 200 projects, about half of which are from Macao and Hong Kong. As of September, it had helped 16 startups secure investments totaling 260 million yuan ($39.3 million).
"The growth of the Inno Valley HQ represents an epitome of the close integration of Guangdong, Hong Kong and Macao," said Xiang Xiaomei, head of the Institute of Industrial Economics Research at the Guangdong Academy of Social Sciences.
"One of its goals is to facilitate the development of Macao's diversified economy and talents," she noted. "At the same time, its innovative economy has an impact on all kinds of industries in Guangdong."
In future, the trading exchange of Zhuhai, Hong Kong and Macao will be further augmented by the Hong Kong-Zhuhai-Macao Bridge, which is expected to be completed later this year, and Zhuhai is building a logistics cooperation park linking the three cities.
Jumping on the bandwagon, Chou aims to expand his experience center into a cross-boundary e-commerce town and a gathering place for internet celebrities.
The startup has already developed a cross-boundary e-commerce platform called Ola that focuses on products imported from Portuguese-speaking countries.
Chou believes the competition among e-commerce players in China is getting more intense, but it' a sure thing that the industry will continue to grow as the internet trend intensifies and the influence of internet celebrities will play a key role in the competition.
According to a report by iResearch, a provider of online audience measurement and consumer insights in China, the number of internet celebrities and their fans on the mainland has grown by leaps and bounds in recent years and their value can be further tapped.
As of May this year, the current number of internet celebrities with 100,000 plus followers on Sina's Weibo had gone up by nearly 60 percent from last year. They had attracted 465 million followers, up by 20 percent, the report says.
grace@chinadailyhk.com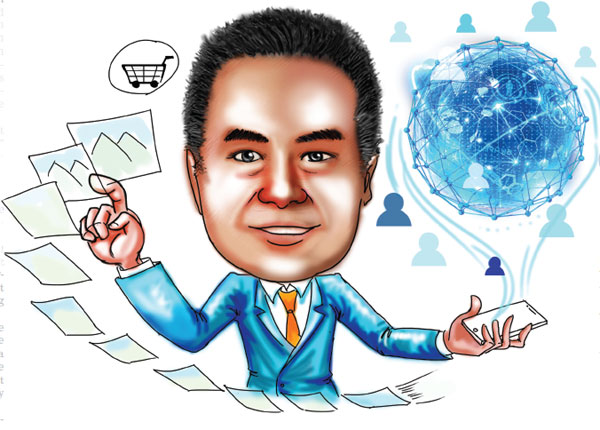 (HK Edition 12/01/2017 page8)
Today's Top News
Editor's picks
Most Viewed