Chinese customers heralded as Harrods' biggest spenders
Share - WeChat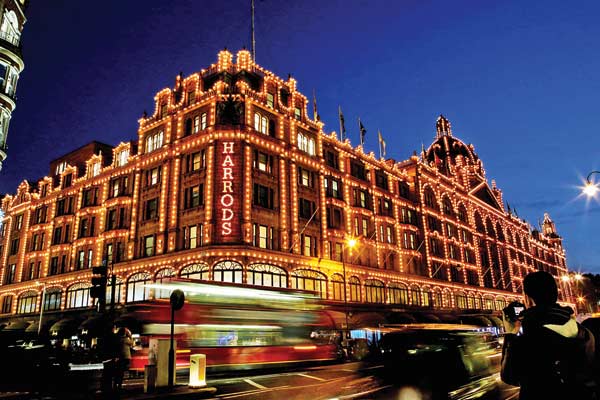 The landmark Harrods department store is set for a three-year 200 million pound facelift. [Photo/Xinhua]
Chinese shoppers are ringing the cash tills more vigorously than ever at Harrods high-end department store in London, where they have become the nationality that spends the most.
Visitors from China have been spending more than British customers since February.
Michael Ward, Harrods' managing director, told the Financial Times that Chinese customers spent more than 200 million pounds ($267 million) in the store last year, mainly on high-end fashion items and accessories. Their spending accounted for more than 10 percent of the 2 billion pounds of annual revenues that the company reported last month in accounts that recorded a pre-tax profit of 233 million pounds.
The interest in the store from Chinese customers fits in well with the company's general shift toward doing more business in Asia.
The continued growth in spending at Harrods is being partly attributed to the declining value of the pound following the UK's decision to leave the European Union, something that means tourists' money goes further.
"London is a much more inexpensive place to go to," Ward said.
He has also called on the UK government to do more to attract more tourists from the world's second-largest economy and has suggested the issuance of more multiple-entry visas and long-term visas for parents with children studying in the UK.
With China becoming an even more lucrative market, the upscale department store is planning a major revamp as part of a 200 million pound investment aimed at catering to its global customers and holding on to its position as the world's leading luxury retailer.
Ward told Hong Kong's South China Morning Post that the three-year project is the most ambitious to be undertaken since Harrods opened in 1834.
The company claims that one in every five pounds spent by Chinese visitors to Britain is spent in Harrods.
According to Ward, the revamp will not include changes to the exterior of the luxury shoppers' paradise, but the interior of the store, which has 330 different sections, will be entirely redeveloped.
The investment also includes rolling out Tencent's WeChat Pay service next year following the launch of Alibaba's Alipay digital payments system last year.
The company will also continue to invest in its Chinese social media accounts on WeChat and Weibo, two of the most popular platforms on the Chinese mainland.
Harrods is owned by Qatar Holdings, which bought it in 2010 for 1.5 billion pounds.