Aston Martin expands China presence with tailored lineup
Share - WeChat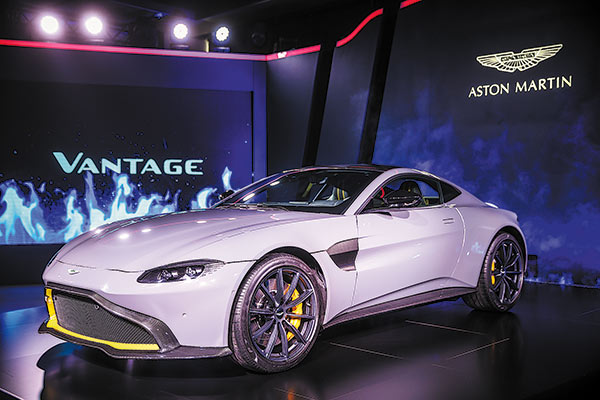 Aston Martin's new Vantage is displayed in Beijing.[Photo provided to China Daily]
Aston Martin said it expects China to become its largest market within four years, as the British luxury sports car maker is planning to roll out cars likely to be well received in the country.
The automaker entered the Chinese market in 2011, but the sales here lag far behind the United Kingdom and the United States. It sells around 1,000 cars in both markets a year.
Michael Peng, president of Aston Martin China, told China Daily the carmaker has created a plan running to 2021, by which time the country could grow to become its No 2 or even No 1 market.
Peng made the remarks as the carmaker unveiled its new Vantage in Beijing on Nov 21. The sports car is the second model in Aston Martin's 2016 plan to produce seven models in seven years, with the first being the DB11.
In terms of product offerings, Peng said Aston Martin has placed greater emphasis on rising markets, especially China.
One example is the forthcoming DBX, its first ever SUV, set to hit the market in 2019. China is known for its enthusiasm for SUVs, which has been the sole growing segment in its automobile industry this year.
"It (the DBX) has gradually taken its final shape in the past two years. When it comes out, you will see how different it is from the concept in 2015," said Peng.
"It is a vehicle that is worth waiting for another one or two years. The SUV we are planning to produce is beautiful, not something like a box," said Peng.
The SUV will be produced at a plant in St. Athan, South Wales, where construction started in April.
Aston Martin is also planning to launch electric cars, which are also gaining in popularity in China.
"Electric cars will feature our future," said Richard Humbert, the carmaker's vice-president and chief quality officer. He said the first model, the RapidE, will come in 2019. The car will deliver the four-door sports car looks and dynamics of the RapideS, powered by an all-electric powertrain replacing the six-liter V12 engine, according to its website. Peng said the carmaker has already identified strategic considerations for electric models that are to follow the RapidE, but did not offer details.
Aston Martin, which has changed hands several times because of its low sales levels, has seen its revenues grow quickly due to the popularity of its DB11 and special edition cars. In the first nine months of this year, its revenues surged 84 percent to around $754 million.