'Life is never a street ahead, you may go sideways'
Share - WeChat Susan Stautberg, chairman and chief executive officer of the WomenCorporateDirectors (WCD) Foundation, grew up in Philadelphia and has been working in New York for many years.
She had a stint in the media, working as a journalist for several years below joining the White House fellowship program which launched her into politics. In 2001, she co-founded the WCD with several other friends who were senior executives of prominent enterprises.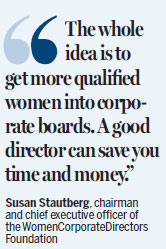 "As a journalist, you're paid to be curious about what's going on and what makes things happen. You need to be confident in dealing with strange people and ask questions and write things clearly, which is great training and prepares you to work anywhere."
Stautberg tells the younger generation: "You have to be prepared to be flexible. Life is never a street ahead and is like a jungle jam where you may go sideways. You have to be open to all kinds of experiences because every new assignment gives you connections and give you ways of seeing what's happening in the world."
As a woman leader, knowing how to strike a balance between work and life is important. "You cannot get all you want, and you've to figure out what is most important to you at a time."
"You also need to have a little schedule," says Stautberg. "If you try to work on a big project, you may have to get up at 5 in the morning and start working on your project till 7 when your children get up. If you try to get a PhD, you may see yourself disappear for hours on Saturday until your children cry out for ice cream."
"What I'm trying to do now is to exercise and read every day. At the moment, I'm writing a fascinating book on the betrayal of business and marriage."
Stautberg has published a book entitled Women on Boards and is working on another one which is about betrayal.
"When a man is betrayed, he normally thinks about how to move forward. But, when a woman is betrayed, she tends to take it personally and over-react, wasting a lot of time thinking more about what and where she had gone wrong."
tingduan@chinadailyhk.com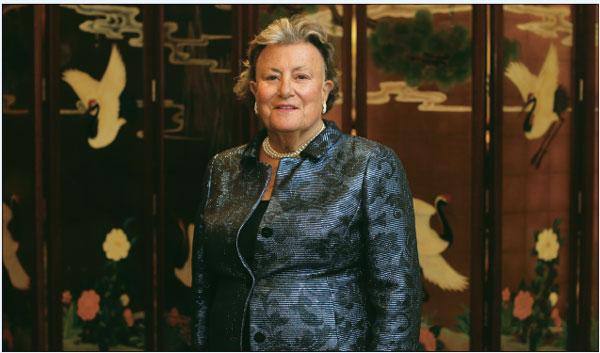 Susan Stautberg, outgoing chief of WomenCorporateDirectors Foundation, says the status of women in the boardroom has now been strengthened after years of painstaking efforts by the organization. Roy Liu / china daily
(HK Edition 11/24/2017 page9)
Today's Top News
Editor's picks
Most Viewed