HK retailers must be prepared for a price war
Share - WeChat Amazon - the world's largest e-commerce company by capitalization - is trying to make inroads into the traditional brick-and-mortar retail business by gobbling US grocery chain Whole Foods. What has terrified traditional retailers most is that Amazon has found ways to cut Whole Foods' prices.
Amazon has set an example for another e-commerce giant Alibaba, which is reported to have made billion-dollar investments to forge strategic partnerships with Auchan Retail of France and Taiwan's Ruentex Group. The move was hailed by the South China Morning Post, which is owned by Alibaba, as a "new retail initiative that combines the strengths of online shopping with those of physical retail stores".
It's widely expected that such a "combination" trend will spread to Hong Kong where e-commerce is rapidly gaining popularity among young shoppers who don't find the pleasure of browsing through the isles of department stores and supermarkets.
So far, e-commerce in Hong Kong is driven by the traditional retailers and supermarkets. But, in recent years, more and more dedicated e-commerce platforms that sell a wide range of computers, consumer electronics and home appliances have been set up to woo internet-savvy customers.
To be sure, they have yet to pose a credible challenge to the traditional retailers. But, even in this compact city where supermarkets are within walking distance in many neighborhoods, the disruptive effect of e-commerce is beginning to be felt.
In the US, for instance, closures of physical retail chains have become a common occurrence in many states. But, a few of them, particularly Walmart, Cosco and Best Buy, seem to have found a way to keep the onslaught of e-commerce at bay by adopting rigorous cost control programs to keep merchandise prices down.
In so doing, they have set an example for retailers elsewhere, particularly Hong Kong, where high property prices have made it all the more important for physical stores to control their overheads. Whether they like it or not, Hong Kong retailers, other than those who cater mainly to the free-spending mainland tourists, will have to brace themselves for the intensifying price war.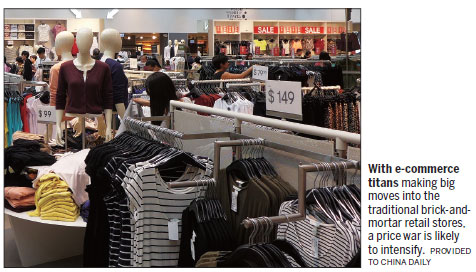 (HK Edition 11/24/2017 page9)
Today's Top News
Editor's picks
Most Viewed