Bank of China maps out plan for future in HK
Share - WeChat Interview with Lin Jingzhen, deputy chief executive, Bank of China (Hong Kong)
Q: How can Hong Kong play the role of "super-connector"?
A: As an international financial, trading and shipping center, Hong Kong enjoys the unique advantages of its geographical location and "one country, two systems". It's uniquely positioned to serve the Belt and Road Initiative as a super-connector through its role in the following six areas:
Firstly, Hong Kong can be a funding platform for infrastructure projects.
Secondly, it's a springboard for Chinese firms to go global.
Thirdly, it's an incubator for financial products and tools.
Fourthly, it offers backdoor support for six major economic corridor construction projects.
Fifthly, it's a trading and logistics junction.
And lastly, the city is where professional talents gather.
Q. What are your future development strategies?
A: 2017 marks the centenary of Bank of China's (BOC) service to Hong Kong. Our prowess in discovering opportunities amidst challenges and developing through continuous reform constitutes the genes of our century-old heritage. Looking to the future, Bank of China (Hong Kong) (BOCHK) will focus on five strategic opportunities:
Firstly, the Report on the Work of the Government put forward the principle to make progress while working to keep performance stable, implement a proactive fiscal policy and a prudent monetary policy, and open wider to the world economy, which has created more opportunities for banking operations.
Secondly, Hong Kong is an important international financial center in the Asia Pacific region, a crucial node in the 21st Century Maritime Silk Road and a hub for the global economic network of ethnic Chinese. Hong Kong recently joined the Asian Infrastructure Investment Bank, which will link these three advantages, reinforce Hong Kong's role as a super-connector, and create golden opportunities for further collaboration and development.
Thirdly, deepened cooperation in the Guangdong-Hong Kong-Macao region will further unleash regional potential.
Fourthly, the launch of the Bond Connect will provide more choices of investment channels and facilitations to increase overseas investments in the mainland of China, which will drive the development of Hong Kong as an offshore RMB center.
Fifthly, Chinese mainland investors have high demand for overseas asset allocation and see Hong Kong as a premier platform. Through the deep collaboration with the parent bank on the mainland, BOCHK has a unique advantage on both sides, bringing tremendous opportunities for its diverse operations.
In the future, BOCHK will continue to deepen its local market penetration, and speed up its development in the region, with the aim of becoming the regional headquarters in Southeast Asia and the overseas flagship of BOC.
Q:How should Bank of China (Hong Kong) seize the opportunities offered by the Belt and Road Initiative?
A: In line with the Belt and Road Initiative, BOCHK has successfully disposed its shares in Nanyang Commercial Bank and Chiyu Banking Corporation in recent years. In addition, it completed the acquisition of BOC's institutions in Southeast Asia, such as Malaysia, Thailand, Indonesia, the Philippines and Vietnam, and established the BOCHK Brunei Branch. All of these represent a promising start in our strategy to transform BOCHK into an internationalized regional bank.
BOCHK will bring Hong Kong's strength in management, talents, financial products, professional skills and quality services to Southeast Asian countries to help their economic and financial development.
BOCHK will concentrate on clients and business in the Belt and Road regions, and prioritize key ASEAN projects and clients from there. It will try its best to be a key bank to serve Chinese clients going global, and a premier bank for the Chinese population in ASEAN.
The bank will focus on projects undertaken by Chinese mainland and Hong Kong firms in the Belt and Road countries.
Utilizing Hong Kong's super-connector role and the advantage of being the special administrative region's sole RMB clearing bank, BOCHK has actively played the role of a bridge linking the mainland of China with Western countries to offer a full range of cross-border services to central banks, super-sovereign organizations, multinationals, as well as mainland enterprises going abroad.
We have also actively attended exchange activities hosted by foreign chambers here in Hong Kong to promote exchanges and business among the mainland, Hong Kong and overseas companies.
Q:Can you share with us the developments of Bank of China (Hong Kong) in the region?
A: ASEAN is a high growth market that has been one of the core regions for the BOC Group's overseas business development over the years. ASEAN is also a key region for both the Belt and Road Initiative and RMB internationalization. Under the globalization strategies within BOC Group and China's Belt and Road Initiative, BOCHK seizes the opportunity to transform from a local bank to an internationalized regional bank through its distinct advantages, playing a central role in Southeast Asia and the whole region, to promote the bank's long-term and sustainable development. We have acquired certain ASEAN assets from BOC, which is in line with the group's integration strategy for BOC Group's domestic and overseas operations.
By consolidating Southeast Asian institutions, BOCHK adopts an integrated operation and management approach, which is important for BOC Group to support the Belt and Road Initiative and grasp the opportunities brought by RMB internationalization. As the largest RMB clearing bank outside the mainland of China, BOCHK will be able to act as BOC Group's regional headquarters in Southeast Asia and serve bilateral trade, as well as financial cooperation in a better way.
Southeast Asia has become the strategic focus of BOC Group. As a result of increased business collaboration, BOCHK's Southeast Asia-related loans grew by 9.4% to HK$61.5 billion compared with the end of last year.
Currently, BOCHK is improving its integration with Southeast Asian institutions in all aspects. It will extend its reach in advanced management, talents, mature financial products, professional technologies and high-end services to Southeast Asian institutions to help them better integrate into and become a mainstream bank in the local market.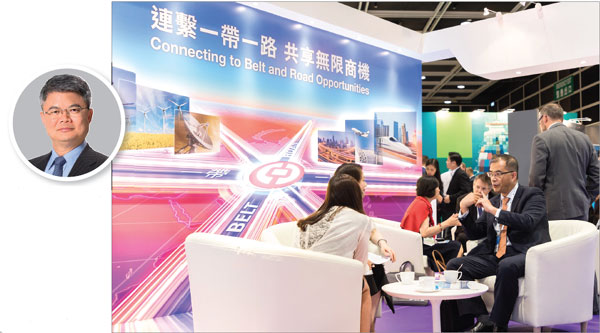 Lin Jingzhen, deputy chief executive, Bank of China (Hong Kong)
The booth of the Bank of China (Hong Kong) at this year's HKTDC Belt and Road Summit at the Hong Kong Convention and Exhibition Centre. Provided to China Daily
(HK Edition 11/15/2017 page18)
Today's Top News
Editor's picks
Most Viewed