C919 completes long-distance flight
Share - WeChat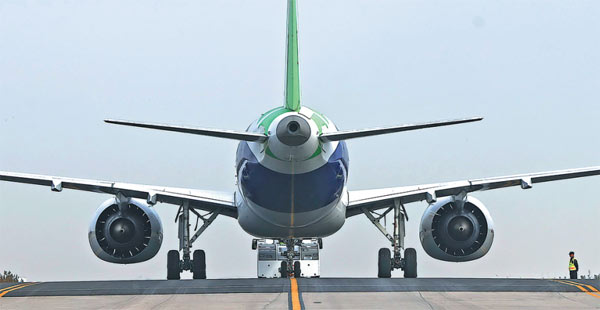 C919, China's self-developed large passenger jet, undergoes final checks in Shanghai ahead of its first long-haul flight on Nov 10, 2017. The successful flight is regarded as another milestone as it enters the airworthiness certification phase. [Photo by Yin Liqin/For China Daily]
Passenger jet set to undergo more tests ahead of final certification
China's self-developed C919 passenger jet completed its first long-haul flight on Friday from Shanghai to Xi'an, Shaanxi province.
Commercial Aircraft Corp of China (COMAC), the manufacturer of the C919, said the successful long-haul flight is yet another milestone as it enters the airworthiness certification phase.
The flight took off at 11:38 am from Shanghai Pudong International Airport and flew over Jiangsu, Anhui and Henan provinces before landing at the Yanliang testing base in Xi'an in Northwest China.
It flew more than 1,300 kilometers, with a duration of 144 minutes, and the flying altitude was around 7,800 meters, COMAC said.
During the past week, the aircraft conducted three test flights. COMAC said the aircraft was in good condition and functioned normally in the air in the completed six test flights. Next, the aircraft will take some more intensive test flights and other preparatory work in Yanliang before seeking airworthiness certifications.
Wu Yue, an assistant to the general manager of COMAC, said Yanliang serves as one of the most important flight testing bases in China. Earlier, ARJ21, the nation's first domestic commercial regional aircraft, took about six years to finish its test flights in Yanliang, while the C919 is expected to take three years.
COMAC said it plans to put six aircraft into test flights. The second plane is currently doing preparation works for its taxi test that is likely to be conducted by the end of the month, and it is expected to make its maiden flight by the end of the year.
Meanwhile, China Eastern Airlines, the carrier that will take the first delivery of the C919, sent its customer representatives to evaluate the cockpit and maintainability of the aircraft, and will participate in the development of the model.
Lin Zhijie, an aviation industry analyst and columnist at Carnoc, China's leading civil aviation web portal, said the C919's entry in the market and an expected customer-delivery date are expected to be sometime from 2020 to 2022.
"The commercial use of the C919 will help the Chinese aviation industry to involve in the world's supply chain system of large aircraft, and China will be able to acquire valuable experiences," he said.
"Apart from meeting flight safety standards, the reliability, fuel efficiency, maintenance costs, as well as the comfort level of the aircraft, should all be considered before it is put into use in the market."
So far, the C919 has received 730 orders from 27 Chinese and overseas customers.