Toutiao buying Musical.ly for $1b
Share - WeChat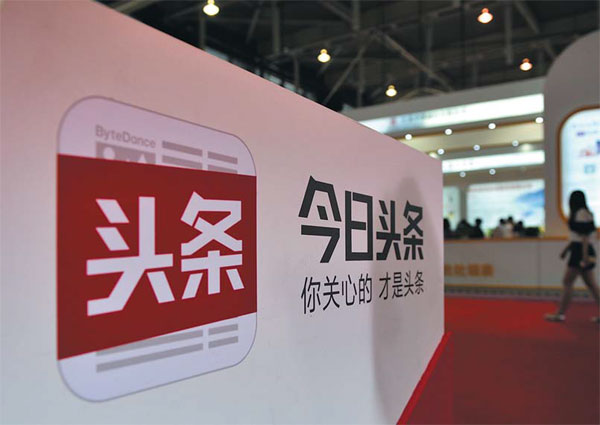 Jinri Toutiao, a popular news aggregator service in China. [Photo provided to China Daily]
China's top news aggregator service Jinri Toutiao has purchased Musical.ly, the Shanghai-based video-sharing platform popular with young people, for about $1 billion to expand its global reach and take a bigger slice of what could become a multi-billion dollar industry.
The deal has been funded by Bytedance, the company behind Toutiao, and follows its successful previous acquisitions like US video site Flipagram and Indian news distributor Dailyhunt. The Beijing-based tech startup has also speeded up its adoption of algorithms in media products that are popular overseas, experts said.
The latest acquisition would allow Toutiao to have access to Musical.ly's 20 million global users, and create content that resonates with local flavor, according to Bytedance's senior vice-president Liu Zhen.
The buyout will also see the merger of Musical.ly and Douyin, Bytedance's indigenous video platform, the companies said. The duo would operate under two different brands but share resources and technologies.
Founded in Shanghai, Musical.ly's short-video offerings and community culture attracted 6 million users in North America and made it the most downloaded video sharing app in the country via App Store, according to data from App Annie, an app tracking and analytics tool.
"Toutiao's recommendation technology will help Musical.ly make more breakthroughs," said Yang Luyu, the founder of Musical.ly.
With 100 million active users, Toutiao's strength lies in the precise news recommendations by algorithms that scour a massive number of sources to filter and tailor feeds, said Huang Yihe, an analyst covering the technology sector at consultancy firm Mintel.
The buyout rhymes with Toutiao's broader globalization push. Earlier this week it wrapped up a $50 million investment in live streaming platform Live.me, a subsidiary of Cheetah Mobile, that is popular with US adolescents.
Toutiao is actively seeking high-quality and internationalized content from overseas, which is the ultimate game changer in the short-form video sector, said Neil Wang, president of Frost & Sullivan in China.
"Photo and short-video apps are easier to be promoted abroad because they create less ideological conflicts compared with apps that mostly deal with text content," said Wang.
"But the diversity of languages across different markets will pose a major challenge, as companies could no longer leverage the low marginal costs for aggressive expansion as it did in China."