Old-school phone firms fighting back
Share - WeChat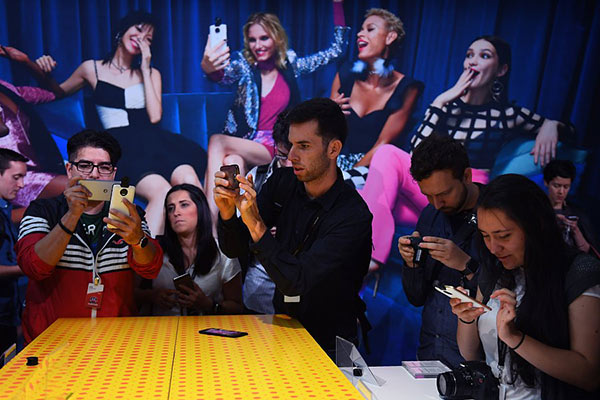 Journalists check the new Motorola Moto Z2 Force phone at a launch event in New York.[Provided to China Daily]
Motorola, Nokia, Blackberry face stiff battle to attract younger consumers
Old-school smartphone brands including Motorola, Nokia and Blackberry are attempting a comeback in the Chinese market this year, but experts said they may encounter steep challenges as China's smartphone industry is witnessing a slowdown and the competition from local vendors is very intense.
These brands may find it difficult to lure members of the younger generation, as their design and function are not perceived as competitive enough, experts said.
"Niche brands are facing fierce competition in the domestic market as many of their fans have turned to the country's homegrown brands, such as Huawei Technologies Co Ltd, Xiaomi Corp, Oppo Electronics Corp and Vivo Mobile Communication Technology," said Jason Low, a tech industry analyst at Canalys. "The young generation might not even know these old brands."
"What they should do is to pay more attention to the design and function of a handset, and launch a unique model to differentiate it from so many competitors," Low said.
HMD Global, the Finnish company that's now making Nokia-branded smartphones, officially unveiled the Nokia 7 in Shanghai this month. It has a 5.2-inch full HD liquid crystal display with a Qualcomm Snapdragon 630 processor under the hood.
The company's lineup already includes the low-end Nokia 3 and Nokia 5, the mid-range Nokia 6, and the high-end Nokia 8. Priced at $377 for 4GB storage, Nokia 7 went on sale in China last week. HMD Global has yet to confirm when the handset will be launched in other markets across the globe.
Also in China last week,
Lenovo Group Ltd announced the Moto Z 2018 modular handset. The modular smartphone has high-powered magnets on its rear with which users can fasten additional equipment, including a Hasselblad camera, an extra battery, speaker, projector and phone shell, aiming at the premium-end market.
"The nostalgic sensation couldn't let these old brands shore up their sales, and they are taking up a very small share in the Chinese market, although Chinese consumers have some expectations for these old brands," said Jin Di, research manager of IDC China.
Jin added local manufacturers have stepped up their efforts in upgrading the functions of smartphones and enhancing their popularity. For instance, Oppo and Vivo are attracting younger customers with their stylish appearance and design as well as lower prices, but it is very difficult for old brands to attract such consumers.
In August, BlackBerry Ltd and Sharp Corp returned to the Chinese market with the help of local electronics makers.
Statistics from global consultancy Canalys showed Chinese smartphone shipments registered another quarter of decline as the market contracted 5 percent in the third quarter of this year to 119 million units.
The race to the top remains tight as Huawei, Oppo and Vivo took 19 percent, 18 percent and 17 percent of market share, respectively.