BYD expects lower 2017 profit on stiff competition
Share - WeChat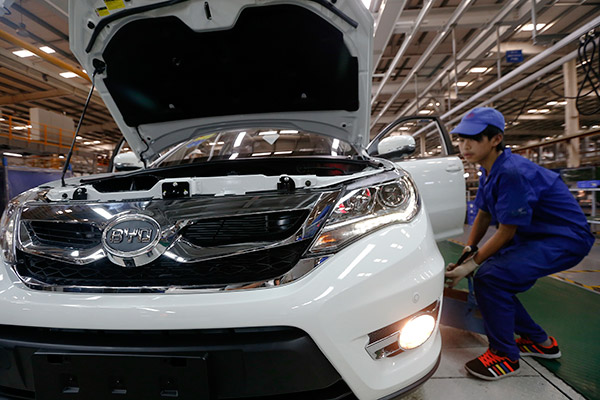 An employee puts the finishing touches to a car at a BYD assembly line in Shenzhen, Guangdong province. The firm said it expects sales to rebound in the fourth quarter of this year. [Photo/Agencies]
Chinese carmaker BYD Co Ltd, backed by Warren Buffett's Berkshire Hathaway Inc, said on Sunday that its annual profit would likely fall by as much as a fifth on higher competition but expects sales of new energy cars to grow rapidly in the fourth quarter.
The company's net profit dropped 23.8 percent to 2.79 billion yuan ($419.46 million) during the first nine months of the year.
It said that revenue for the nine-month period rose 1.56 percent to 73.9 billion yuan.
BYD said its sales during the first three quarters were affected by the cut in government subsidies for new energy cars. During the period, sales of BYD Qin, one of its flagship plug-in hybrids, fell by 72 percent from a year ago. The company's market share in the new energy vehicle segment fell to 21 percent from 30 percent in 2016.
BYD's Shenzhen shares dropped nearly 4 percent on Monday to close at 62.53 yuan.
Although the group has predicted better sales of new energy and other cars in the fourth quarter, its estimated full year earnings of 404 million yuan to 429 million yuan could be 15 to 20 percent lower than the 505.2 million yuan it earned in 2016.
The National Development and Reform Commission, China's top economic planner, last month said it would end the subsidy for new energy vehicles by 2020. Such a policy could lead to a potential shuffle in the market, experts said.
"We haven't seen unique and competitive Chinese products while only a few foreign companies are selling new energy cars," said Cui Dongshu, general secretary of the China Passenger Car Association.
"The subsidy removal will force companies to reposition themselves and upgrade," added Cui.
The insufficient infrastructure for vehicle charging, particularly in lower-tier cities, is another concern that has been affecting the industry.
Ren Yegang, an entrepreneur who had set up a 4S shop for new energy cars in Ningbo, Zhejiang province last year, had to close operations in a year.
"We hardly sold any vehicles, because there are insufficient charging points in residential areas," he said. "People don't want to drive to gas stations and wait there."
He also said the battery could only power in-city commuting, which turned potential buyers away.
Such challenges have prompted domestic automakers to upgrade to secure more market share, while several foreign firms are looking to enter the Chinese market.
China Chang'an Automobile Group Co Ltd, another leading automaker, said last month that it would invest over 100 billion yuan for setting up a new energy vehicle industrial chain by 2025.
In June, SAIC Motor Co Ltd and Contemporary Amperex Technology Co Ltd, one of the largest battery suppliers in China, have poured multi-billion yuan investment in a battery manufacturing plant, targeting an annual output of 35 gigawatt hours.
Future Mobility Corporation Ltd, a foreign-invested startup, has also planned an 11.6 billion yuan investment for a manufacturing plant in Nanjing, which is expected to be operational by 2019 with an annual output of 150,000 cars.