Chinese man's special burger is a big seller in Milan
Share - WeChat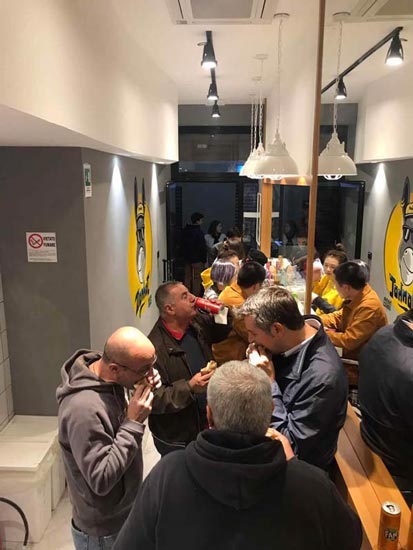 Customers dine on lyurou huoshao at Wang Xinxin's restaurant in Milan. [Photo provided to chinadaily.com.cn]
A burger stuffed with donkey meat is a hit at a Milan restaurant opened by a man from North China's Hebei province who wants to promote Chinese traditional food worldwide.
Wang Xinxin, born in 1985 in Baoding, opened a restaurant selling lyurou huoshao, the donkey stuffed burger, in Milan's Chinatown in late September, according to a report by Yanzhao Metropolis Daily.
During the past month, the restaurant has become increasingly popular among local residents and is always crowded during peak meal times.
The burgers are 5 euros ($6) each and the restaurant receives more than 150 customers each day from 10 am to 10 pm.
"People here like to eat them, just like Chinese people," Wang said, adding that given its popularity, he is planning to open another restaurant in the US.
Wang's hometown, Baoding, is home to lyurou huoshao, burgers with salty, well-braised donkey meat and green peppers minced and stuffed into a baked wheat bread called shaobing.
According to Wang, the specialty originated during the Ming Dynasty (1368-1644) and is healthy, low in fat and high in protein.
Most Popular