Makeovers for museums
Share - WeChat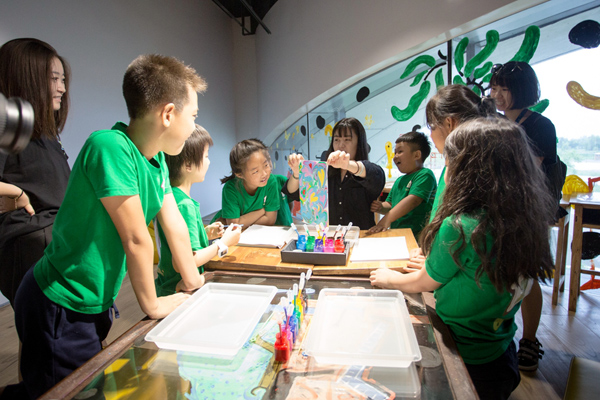 A contemporary art workshop arranged by MOCA Yinchuan. [Photo provided to China Daily]
The museum plans to collect 300 such boxes and showcase them at an exhibition, titled Secrets of Time, in October 2018.
Zhang Yun from the museum's public education program says the exhibition is to mark the 60th anniversary of the setting up of the Ningxia Hui autonomous region next year.
She says the boxes will be showcased with old photos and video interviews of ordinary people, providing a variety of perspectives to understand the development of Ningxia.
"Ningxia is home to many immigrants from across the country. Their diverse backgrounds constitute the past and present of Yinchuan and distinguish it from other cities in northwestern China," she says.
As the museum is far from Yinchuan's city center, Zhang says that the museum also plans to display the boxes at libraries and hotels that are more accessible.
The museum, which was opened in 2015, aims to introduce fine art to people in the far northwest of the country.
Separately, there has been a boom in privately-funded museums on the Chinese mainland over the last decade.
The private museums boast rich public education programs that provide visitors diverse options.
Speaking about MOCA Yinchuan, Zhang says: "The idea that drives us is that every person could be an artist." She adds that although there are plenty of choices for workshops and lectures at the museum, it has to focus on the interests of local visitors.
Giving an example of the pottery-making class at her museum she says that is not very popular.
She says that this is because people have to leave their works at the museum for drying and firing, and since it is far away from the city center very few visitors are likely to return to collect their works.
"So, we have devised a handicraft course where one can take away the work the moment it is completed. We have a dozen handiwork machines. And many people have signed up for the course, including men."
Zhang says the workshop is well received not only because people go home with a sense of achievement, but also because it connects with the handicraft traditions of Ningxia.
One of the museum's exhibitions two years ago displayed dozens of cloth dolls whose costumes were designed and made by local households. The dolls were returned to their stylists after the show ended.
"When people find that things that they make for fun will someday be on show, they feel a sense of attachment and keep returning to the museum," says Zhang.
Meanwhile, unlike Yinchuan where there are few museums, those in Shanghai-a hub of art on the mainland-need to do more to draw visitors. Some new museums are under construction in the city.
Most Popular