Bike-sharing firms forced to slam on the brakes
Share - WeChat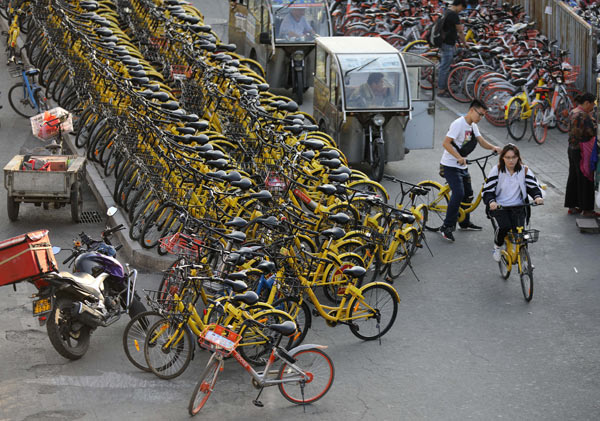 Shared bikes near a subway station in Beijing. [Photo by Zhu Xingxin/China Daily]
Local authorities ban moves to expand cycle fleets after parking chaos, traffic congestion and public safety concerns
China's bike-sharing craze is causing parking chaos, traffic congestion and is a safety hazard.
Bans on expanding cycle fleets in Beijing, Shanghai, Shenzhen, Wuhan and Guangzhou, as well as eight other cities, have been wheeled out by local authorities.
In the capital alone, there are 2.35 million shared bikes run by 15 companies with stacked parking on pavements and at road crossings causing havoc for pedestrians.
"It is necessary that the authorities put the brakes on shared bikes," said Li Hao, an analyst at iResearch Consulting Group in Beijing.
Earlier last month, the capital's transportation management authority prohibited an increase of shared bikes on its roads.
Another 12 cities followed suit, forcing the main players to consider expanding to untapped markets across the country, as well as abroad.
Still, many small bike-sharing companies will go to the wall, squeezed out by the big boys such as Mobike Technology Co, Bluegogo and Ofo Inc.
Mobike plans to improve its services and management structure in major cities.
"As competition in the bike-sharing market in first-tier cities becomes fierce, sophisticated, intelligent management and operations will be our focus," said Li Yuxian, vice-president of Mobike.
"We are aiming to improve users' experience and ease the urban traffic pressure," Li added.
Mobike has rolled out a highly-efficient and professional operational team in Beijing.
They dispatch bikes and handle parking black spots by using cloud computing and artificial intelligence, or AI, technology.
The company has spent more than 3 billion yuan ($458 million) on big data, internet of things and AI. It is also gearing up to increase its global expansion plans.
"Establishing more cooperative relationships with municipal governments all over the world will be our next move," Li said. "We aim to operate in 200 cities by the end of the year."
Mobike's wheel tracks can be found in 170 world cities, with the company owning seven million bikes, as well as having over 100 million customers.
Apart from China, the firm's cycles can be found in London, Manchester, Florence, Milan, Singapore and Bangkok.
For now, even profit has been put on hold as the company continues its global push.
"If we want to make money, we can, but making money is not our first goal," Hu Weiwei, co-founder and president of Mobike, told the media.
"Profit is not the most important goal for us at the moment," Hu added. "We are focused on market expansion."
By July, major Chinese cities had reached saturation point. There were up to 70 bike-sharing brands with 16 million cycles on the streets for a customer base of about 130 million, figures from the Ministry of Transport revealed in the summer.
Data such as this prompted Mobike's rival Ofo to focus on operating its existing fleet of canary yellow cycles after announcing a designated maintenance officer for each operating area.
Big data analytics technology was used to enhance efficiency. Founded in 2014, the Beijing-based company is valued at more than $2 billion after raising $700 million in its latest round of financing in July.
It has more than 10 million bikes in 13 countries globally and in September officially launched in the Czech Republic, Italy, Russia and the Netherlands.
The company aims to roll out 20 million bikes in 200 cities across the world by the end of the year after moving into markets in the United States, the United Kingdom, Singapore, Kazakhstan, Thailand, Malaysia, Japan and Austria.
"Our platform was created with the ambition of improving the environment globally by introducing low-carbon transportation to urban dwellers," Dai Wei, founder and CEO of Ofo told China Daily.
"Ofo is committed to bringing our green service to every city in need of convenient short-distance travel solutions," Dai added.
Back in China, Ofo and the rest of the bike-sharing companies need to streamline and improve their business models.
Many are unlikely to survive in a cutthroat industry. Some will be taken over or merged, while others will simply disappear from the streets.
"Bike-sharing companies should standardize the management of bikes and upgrade their operational capacities," Li at iResearch said. "Refined management will be the future direction.
"But we don't rule out the possibility that small bike-sharing companies will be shut down or acquired by other companies," Li added. "There will be a reshuffle in the market."
During the summer, Wukong Bicycle, a startup based in Chongqing, became the first bike-sharing company to go bankrupt.
It was quickly followed by 3Vbike, which was forced to shut down because of rising costs.
Now, many small brands plan to shift to third- and fourth-tier cities.
Chen Yuying, CEO of Guangzhou-based MingBikes, aims to curtail operations in Shanghai, Hangzhou, Guangzhou and Shenzhen by the end of this year and move into 50 third- and fourth-tier cities.
"It is difficult for new bike-sharing brands to enter first-tier cities where the authorities have banned any more shared bikes from being stationed," said Wang Chenxi, an analyst at internet consultancy Analysys in Beijing.
"The influence on major players Mobike or Ofo is limited, but it's a matter of life and death for small bike-sharing companies as it is evitable that some of them will be knocked out," she added.
Zhuang Qiange contributed to the story.