Go slow
Share - WeChat A Heilongjiang border town has joined other Chinese settlements seeking official international recognition for laidback lifestyles. Zheng Jinran and Cang Wei report.
It may soon be official - Jiayin is a place to go slow. The small town, near the Russian border in China's Heilongjiang province, is indeed a place where the pace is far from hustle and bustle.
So, it has applied to the International Association of Cittaslow for recognition as a Slow City.
Traffic jams are rare. People often nap at noon. And it takes 10 to 20 minutes for most folks to get to work, compared with an hour or two each way in metropolises.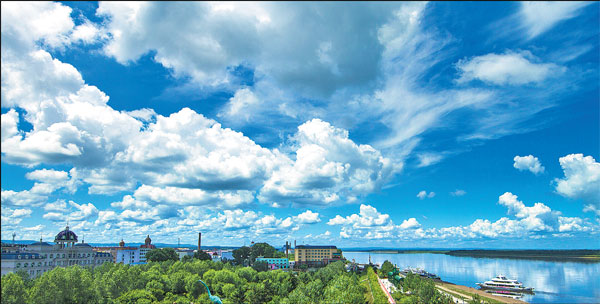 "Time slows down in Jiayin," says 35-year-old resident Zhao Heng, who has worked as a local tour guide for years.
"Many visitors love the cozy leisure time here. They say they have more time to feel life instead of feeling lost in busy schedules."
The county government filed the application in July, tourism bureau director Shan Xiaohua says.
It's among 37 Chinese counties and towns that have applied as of that month, says Zhang Lei, a senior official with the association's Chinese branch.
Six Chinese counties have been named Slow Cities since 2010, he says.
The first Chinese settlement to earn the honor is Yaxi county in Jiangsu province's capital, Nanjing, which hosts the Chinese branch's headquarter.
"The Slow City designation is earning more recognition at home and abroad, especially among people in major metropolises, who endure mounting pressure from work, traffic and soaring property prices," Zhang says.
The concept originated in Italy in 1999 with the motto, "slow for a better life".
It's rooted in such ideas as slow food - a counter movement to fast-food culture - that also originated in Italy and has spread around the globe since the '80s.
Founder Carlo Petrini published a manifesto that says people are enslaved by speed, which disrupts normal life. So, they should return to healthy home-cooked fare made from homegrown ingredients.
The Slow City initiative is essentially slow-food values extended to the entirety of life.
"We achieve the ideal of good living by slowing down and rediscovering our identity, our territory and our local culture," Cittaslow explains on its website.
The global network has expanded to 236 cities in 30 countries and regions over the past 18 years.
The standards are strict. They cover traffic, production, culture, technology and lifestyle.
The Chinese branch's guidelines say a candidate's population shouldn't exceed 50,000. Vehicles should drive no faster than 20 kph downtown. And fast food restaurants' presence are discouraged.
"There can't be companies in scenic belts. Incomes should be based on green agriculture and tourism," says Wang Jianye, head of Yaxi's tourism bureau and deputy director of the management committee of Yaxi's Gaochun Slow City, China's first settlement to win the designation.
Yaxi's six villages cover 50 square kilometers with a 48-km-long scenic belt.
Its poky pace hasn't hurt its economy. It has instead helped sustainable development, Wang says.
Residents in Yaxi's Dashan village earned about 7,900 yuan ($1,200) on average in 2010, before the award. They've earned nearly 30,000 yuan this year, committee data show.
Some households generate up to 400,000 yuan a year, Zhang says.
They've built restaurants and opened farmhouses to guests, Zhang says.
Nanjing retiree Chen Ning, 62, says: "The clean air, vast green areas and delicious food keep me coming. The slow pace is just right for my peers. We enjoy chatting, eating and enjoying life here."
Nanjing resident Zhong Lei brings his wife and daughter to Gaochun every spring and autumn.
"It's a precious time away from computer screens of data with my family," the 33-year-old says.
Many migrants have returned to claim the business opportunities the designation affords.
"We've maintained residents' green and leisurely lifestyles since winning the title," Zhang says.
"It has offered more opportunities. Visitors come from around the country and world."
Slow Cities are able to take situations previously considered as disadvantages and transform them into advantages. For instance, a lack of industry means less pollution in places like Jiayin.
The Slow City application is expected to boost tourism, which is another moneymaking mainstay, Shan Xiaohua from Heilongjiang says.
Local tour guide Zhao Heng, 35, says: "I hadn't heard of a Slow City before the application. But we've been living a relaxed lifestyle for generations."
"I'd like for more people to experience our beautiful scenery and food, and have a good time in Jiayin. And I hope residents can earn more from this and improve their lives."
Contact the writers through zhengjinran@chinadaily.com.cn
China's six Slow Cities
1. Yaxi, Nanjing, Jiangsu province
2010
50 square kilometers, with a 48-km-long scenic belt
22,000 residents
2. Yanyang town, Meizhou, Guangdong province
2014
188 square km, with 78 percent forest coverage and 27 original Hakka villages
32,000 residents
3. Shimen town, Qufu, Shandong province
2015
Fewer than 50 square km. About 70 percent forest.
23,000 residents
4. Fuli town, Fuchuan Yao autonomous county, the Guangxi Zhuang autonomous region
2015
25 square km, with Shenxian Lake ecological leisure park at the center. It contains 31 hamlets
Nearly 50,000 residents
5. Yuhu town, Wenzhou, Zhejiang province
2016
180 square km and 44 villages
42,000 residents
6. Jingyang town, Xuancheng, Anhui province
2016
Over 100 square km. Forest coverage of 66 percent and 14 villages
43,000 residents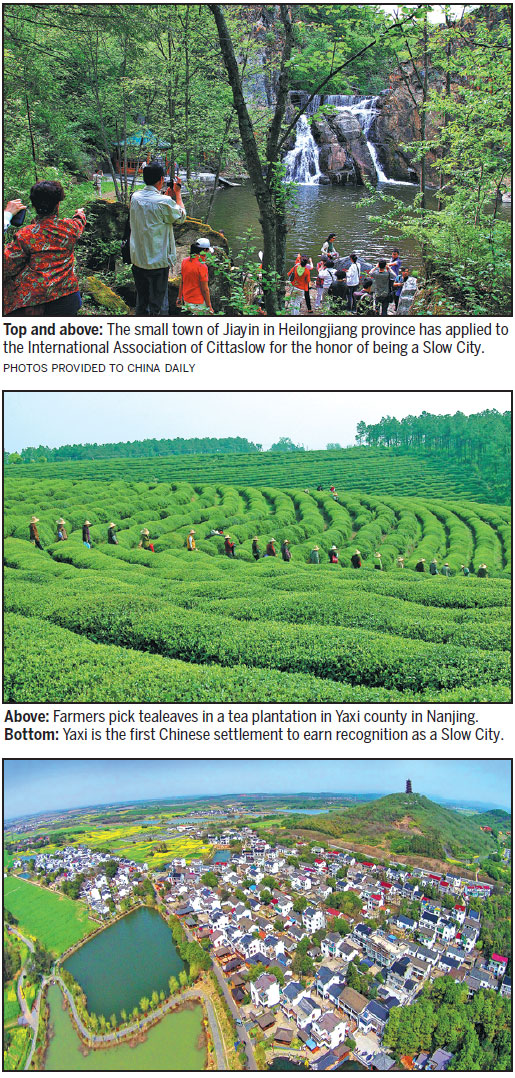 (China Daily 10/04/2017 page10)