China's Fintech contributes to world in technology and business models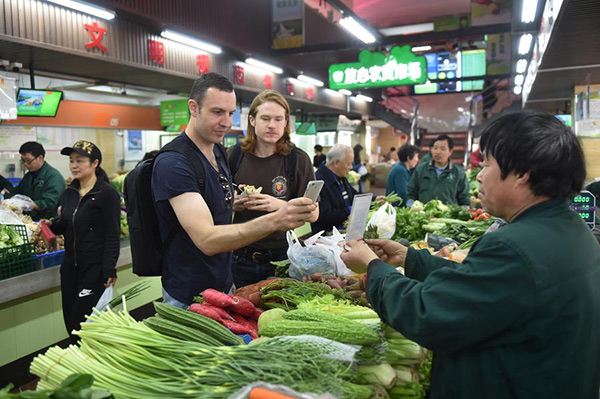 Foreigners experience using mobile payments to buy vegetables at a marketplace in Hangzhou, Zhejiang province, on April 14, 2017. [Photo/Xinhua]
Q: What are internet finance's contributions to the whole economy in China?
A: First, internet finance has boosted efficiency of the whole economy.
As China's mobile payment value has exceeded 38 trillion yuan($5.69 trillion), 50 times of that in the United States, this credit mainly goes to internet-based third-party payment.
Mobile payment has lowered transaction costs and increased transaction efficiency and hence has improved the efficiency of the whole economy.
Second, internet finance has improved financial inclusion in China.
Right now, most internet finance is for individuals, or households, or small and micro firms, which are under-covered by traditional finance. Low-cost, low-entry barrier and disintermediation business models of internet finance has made serving these groups possible. Taking internet loans as an example, in the year 2016, loans lent on internet platforms neared 3 trillion yuan, most of which went to areas uncovered by traditional finance.
China's internet finance development in the past five years is well in line with the G20 High-level Principles for Digital Financial Inclusion rectified on the Hangzhou Summit held between Sept 4 and Sept 5.
Third, China's internet finance has helped the country build its credit system.
Progress on the building of China's personal credit system used to be slow for a long time. However, as internet finance has enabled more individuals to get their loans via internet-based platforms and as there are no universal criteria for judging one's credit score, more and more big data companies or Fintech companies have increased their R&D on credit scores. Although there is a long way to go, these companies, which have aroused Chinese people's credit awareness, are the embryonic form of the country's credit sector.
Fourth, internet finance has boosted employment. According to Fintech Lab's database, the number of Fintech companies has exceeded 10,000 and the largest Fintech company has more than 40,000 employees. Fintech has become an increasingly important force in driving employment.