Italian wine matures in the Chinese market
Share - WeChat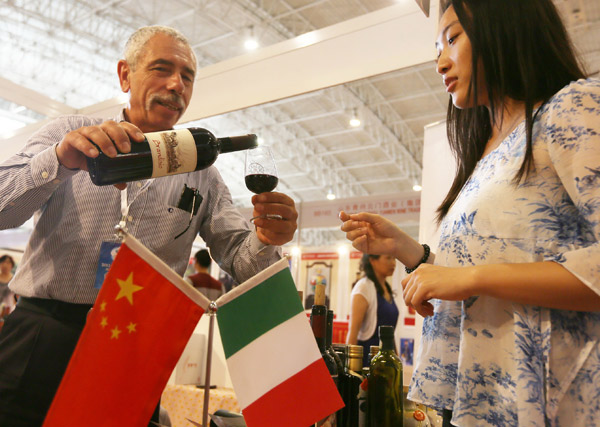 A man pours Italian wine at the Third China International Consumer Products Exhibition in Beijing. [Photo provided to China Daily]
Most Chinese consumers are less familiar with Italian wines than they are with other foreign rivals such as wines from France and Australia, which entered the China market earlier.
But as Italy pushes ahead with promotions of its wines, it may not be long before Chinese consumers list the exotic Italian wines.
This kind of wine takes leading market shares in some mature Western markets, among their favorite drinks during get-togethers or in bars.
The Beijing-based China Wine Platform Group, an agent of premium imported wines, has been cooperating with wine brands from France, Spain, New Zealand, the United States, Argentina and Chile. It signed an exclusive cooperation agreement recently with Italy's Sartori chateau, which was founded in 1898.
Ettore Sequi, the Italian ambassador to China, said the country has some 400 different qualities of grapes, and some 800 different kinds of wines. He is bullish on the growth potential of Italian wines in China.
"Italy is the first producer and exporter of wines in the world. In many markets, such as the United States, Canada and the United Kingdom, Italy takes a leading position in export in terms of quantity and volume," he said.
"Italian wines combine top quality with very affordable prices, which makes it excellent value for money."
With a growing middle-class, China has increasing numbers of consumers who are pursuing high-quality lifestyles, and the consumption of imported wines has become more widespread in China, where drinking wines has not been a tradition.
In the first half of 2017, China imported a total of 0.34 billion liters of wines, increasing 12.66 percent year-on-year. Of that total, China imported 0.25 billion liters of bottled wines, jumping 13.93 percent year-on-year, according to data from the General Administration of Customs.
During the period, France, Australia and Chile stood out as the top three importing countries of origin. Italian wines have performed outstandingly, as China imported 14.96 million liters of Italian wine, growing 17 percent over the previous period. Those imported Italian wines were worth $67.37 million, adding 18.28 percent year-on-year.
In the first six months of 2017, Italian wines accounted for 5.9 percent of the market share in China among imported wines, higher than the 5.1 percent in the same period last year, according to Customs.
Li Zhishuo, president of China Wine Platform Group, said the imported wine market in China has been growing solidly, and it will be an inevitable consumer trend to choose Italian wines.
"Now it's the best time to add Italian wines into our product category. I believe that Italian wines will soon become our core competence, with its diversity and richness. I expect that in the next few years, more agents of imported wines in China will cooperate with well-known chateaus in Italy."