Fosun revises Indian drug maker acquisition, cuts stake size
Share - WeChat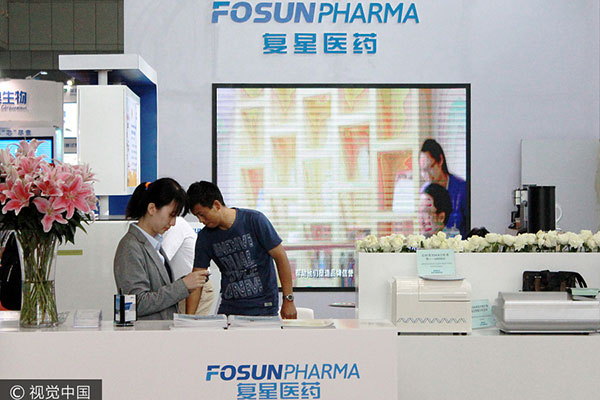 Shanghai Fosun Pharmaceutical's booth is pictured at an expo in Nanjing, East China's Jiangsu province, Sept 11, 2015.[Photo/VCG]
China's healthcare giant Shanghai Fosun Pharmaceutical (Group) Co Ltd announced Monday it will purchase an approximate 74 percent stake in Indian drug maker Gland Pharma for more than $1 billion.
The stake's size has been revised down in this new announcement, as the company made a deal to acquire an approximate 86.08 percent stake in Gland Pharma for no more than $1.26 billion last July.
Gland Pharma's founder shareholders wanted to maintain a higher stake in the company because of its good performance, Fosun Pharmaceutical said in its announcement.
Though it will still hold a controlling interest in Gland Pharma, Fosun said the new agreement will establish closer cooperation between the management teams of the two companies.
After the announcement, Fosun Pharmaceutical shares rose 2.76 percent at 31.6 yuan per share as of 10:56 am Monday.
According to the announcement, the $1 billion deal also included a payment of no more than $25 million contingent on consideration for Gland Pharma's Enoxaparin sales in the US market.
Gland Pharma, as one of the world's largest providers of injectable generic medicines, is India's first injectable drugs manufacturer to be approved by the US FDA. Its revenue mainly comes from the markets of the US and Europe.
"China and India are complementary in the field of pharmaceuticals. The resource grafting of Chinese and Indian pharmaceutical companies represented by Fosun Pharma and Gland Pharma will help promote the internationalization of Chinese pharmaceutical companies in R&D innovation and generic drug export," Chen Qiyu, co-president of Fosun Group and chairman of Fosun Pharmaceutical, said in the announcement.
For Gland Pharma, the partnership with Fosun Pharmaceutical will enable the company to contribute further to the Indian bio-tech market, accelerate its investment plans and create more jobs in India's pharmaceutical industry, the Indian drug maker said in the announcement.
The termination date of the deal will be extended to Oct 3, Fosun Pharmaceutical said.
In August, the company's previous takeover deal of Gland Pharma was blocked by the Cabinet Committee on Economic Affairs of India and its termination date was extended to Sept 26, even though it received approval from China's National Development and Reform Commission. The deal had also gone through Indian and US antitrust filings respectively, according to a report by Bloomberg.
The previous deal could have marked the biggest overseas acquisition by a Chinese pharmaceutical company and the biggest Chinese corporate acquisition in India.
Chinese pharmaceutical and healthcare companies' investment appetites for overseas markets are expanding, according to a report by Deloitte Touche Tohmatsu.
Last year, a total of 29 Chinese pharmaceutical companies completed outbound mergers and acquisitions worth $56.67 billion, rising sharply from $34.42 billion in 2015, the report said.