Steaming ahead with tech-driven education
Share - WeChat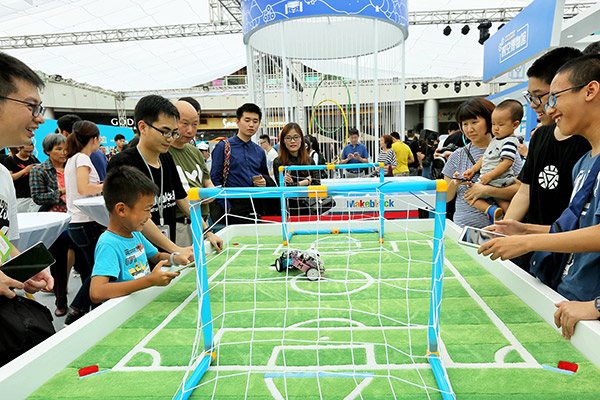 Robot lovers play with Makeblock products at a technology carnival organized by the company in Shenzhen. [Photo provided to China Daily]
Makeblock, maker of devices that sharpen kids' minds, eyes world
Makeblock Co Ltd, a Shenzhen-based robotics company, well known among students and educators for its educational devices for children, plans to strengthen its presence in key overseas markets.
It is striving to promote robotics and education in science, technology, engineering, art and mathematics (which are collectively referred to as STEAM).
Makeblock develops programmable robots, drone kits, mechanical parts and electronic modules for educational use. Its aim is to enhance young people's programming ability and spur their creativity.
"We hope to make robotics and STEAM education more comprehensive and accessible in countries that are already aware of the importance of it. We would like to increase awareness in countries that have lagged behind," said Wang Jianjun, founder and CEO of Makeblock.
To achieve that, the company is building infrastructure in the form of makerspaces and robot laboratories to promote its brand of education worldwide.
It is also cooperating with local educational institutions to launch textbooks that suit specific countries and regions.
In France, more than 6,000 schools have introduced Makeblock products in their robotics classes.
Its French-language textbook has been included in France's educational system. In Hong Kong, it has a presence in over 400 schools.
Wang said the United States, Europe, Japan and Hong Kong are among the company's key target markets outside the Chinese mainland.
In July, the company announced its entry into the Japanese market, marking a step forward in its process of going global.
"Japan is a very important market for us," Wang said. "Japan has superior and advanced technology in the robotics industry, but STEAM education is less understood by the public compared to other developed countries. That offers us a big opportunity."
He said the company will increase its investment in Japan in the coming years. "With our rich experience globally, we can surely promote faster development of STEAM education in the country."
Since its founding in 2013, Makeblock has marched into over 140 countries and regions around the world, from North America, Europe, the Middle East to Asia Pacific, with its users growing to 2 million.
The company now has more than 450 staff members, of which 45 percent are into research and development. It finished its B-round financing in March, securing 200 million yuan ($30.3 million) from investors.
Makeblock's revenue last year was over 120 million yuan, with 70 percent coming from overseas markets.
However, overseas expansion is not an easy path, Wang said, especially in such markets as the US, where robotics and STEAM education have become mature.
Primary school students in the US are familiar with programming and a number of local competitors have been operating in that market for a long time.
"What we do is to offer comprehensive services, instead of focusing only on hardware manufacturing, to add value to our offerings. For example, we would launch workshops, training programs and other events to provide various levels of support to our users," he said.
The company is also making efforts to enhance robotics and STEAM education by organizing competitions.
In July this year, Makeblock partnered with the Mexican government for a nationwide robotics competition called Robomath Challenge. More than 200 teams from 32 regions in the country participated in the contest.
Wang admitted that although robotics and STEAM education are gaining increasing awareness and recognition, some countries are finding it difficult to promote them due to a lack of resources.
A major challenge is that schools do not have teachers who have expertise in this field as it is still a relatively new concept to many people; and, to cultivate educators requires a period of time, he said.
"Despite the current situation, STEAM education is going to bring a revolution to the industry. Deep integration of education and technology will definitely be the trend."
According to a report by London-based market research firm Technavio, global educational robot market is expected to grow at an annual rate of more than 21 percent by 2020.
The growing requirement for an effective training management system in universities and K12 educational institutes-they provide primary and secondary education-has augmented sales of advanced robots in Asia. This would accelerate the overall growth of the market in the coming years, the Technavio report said.