Helping the manufacturing sector to upgrade
Share - WeChat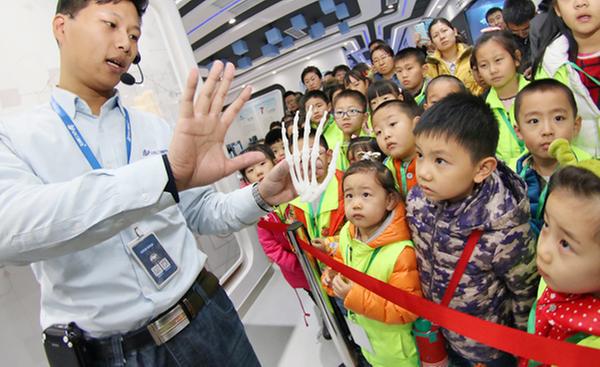 A technician explains to primary school students the salient features of a 3D printer and its applications at a science and technology museum in Yantai, East China's Shandong province. TANG KE / FOR CHINA DAILY
Abu, a six-year-old boy with underdeveloped ribs, from Northwest China's Xinjiang Uygur autonomous region, underwent a life-saving heart surgery in Shanghai earlier this month, thanks to 3D, or three-dimensional, printing technology.
Using specially designed equipment, Shanghai Children's Medical Center 3D-printed an 8x12 cm metal part to cover the patient's exposed heart, according to China Youth Daily.
As the cover story of this section documents, by adding layer upon layer of material, a 3D printer can print, or create, anything drawn on paper from scratch into a 3D object.
This means, intricate models of four-story arenas, silver earrings, high-precision wind turbines ... are all fair game for 3D printers.
The technology is already widely used even in the manufacture of high-end aerospace equipment, tools for medical diagnosis and treatment, architecture, automobiles, clothing and in the research and development of new medicines.
Small wonder, the 3D printing segment grew by 50 percent year-on-year to 1.16 billion yuan ($175 million) in sales in the first half of this year, according to the latest report released by the China Center for Information Industry Development, a Beijing-based think tank.
The "additive manufacturing industry", as CD printing is formally called, is forecast to see high growth rates in the next decade in China, in spite of challenges ahead.
The Internet Data Center said the 3D printing industry would reach $28.9 billion in sales by 2020, with the annual growth rate tipped to reach 22 percent in the next three years.
By 2025, the size is expected to reach $200 billion to $500 billion, according to a report by McKinsey & Co, an international consulting firm.
More personalized 3D-printed products can be expected in the future, experts said.
Shi Yushen, a professor at the Huazhong University of Science and Technology, said 3D printers may become ubiquitous, and part of even household items in the future. They will likely be used to print a range of things-clothes, shoes, ornaments, water faucets, what you have.
Shi said one of his doctoral students made a 3D printer for food! "In the future, children will be able to print cakes designed by themselves for their birthday party."
Calling China's 3D printing technology companies as good as foreign competitors, Shi said the country is not lagging much in the field, as relevant research had started over 20 years ago.
According to a CCIID report, industrial clusters have taken shape in China, comprising the Bohai Sea Rim, the Yangtze River Delta and the Pearl River Delta regions, as well as Shaanxi, Hubei, Hunan and Anhui provinces.
Fuelling the uptrend is China's ambition to upgrade its manufacturing to make it a more high-end and intelligent one. The "Made in China 2025" initiative seeks to transform the country from a manufacturing giant into a global high-tech manufacturing power.
Under the initiative, the Chinese government allocated 5.2 billion yuan to promote 133 key projects involving intelligent manufacturing in industrial sectors such as bullet trains, 3D printing, construction machinery and electric vehicles in 25 provinces and autonomous regions last year.
Challenges, however, have surfaced. Take construction using 3D-printed materials for example. Few have successfully leaped from producing a 3D-printed model to building the real structure.
"You can 3D-print whatever you want, but you can't guarantee that the products would be functional," said Zhang Jing, president of Zhejiang Xunshi Technology Co Ltd, a manufacturer of 3D printing equipment.
Raw material and product performance are key, Zhang said.