Beijing kicks off international conference on translation, publishing
Share - WeChat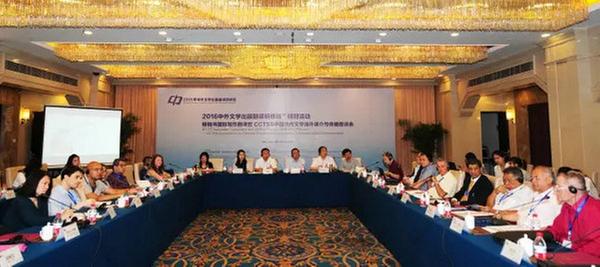 The 2016 Sino-Foreign Literature Translation and Publishing Workshop. [Photo/CCTSS.org]
The 2017 Sino-Foreign Literature Translation and Publishing Workshop opened in Beijing on Aug 21.
Organized by the Ministry of Culture of China, the State Administration of Press, Publication Radio, Film and Television as well as the China Writers Association, the event will run until Aug 26.
The other two co-organizers of the workshop are Chinese Culture Translation and Studies Support (CCTSS.org) and China National Publications Import and Export (Group) Cooperation.
About 30 scholars, translators and publishers from 50 countries, including Finland, France and Russia, are attending the event.
They will discuss the current situation of Chinese literature, foreign translation and the publishing of Chinese literature works.
A forum, the 11th Special Book Award of China and CCTSS Dialogue on Chinese Culture Translation and Communication, will be held on Aug 23. A face to face with Chinese noted writers will be held on the same day. Jia Pingwa, a veteran Chinese writer known for his novel Ruined City (Fei Du), will attend the event.
The workshop aims to deepen the intellectual and cultural exchanges between China and foreign countries and strengthen the bonds and mutual understandings among different civilizations. Through inviting foreign translators, publishers and writers to China to communicate with their Chinese counterparts, the event plans to promote international cooperation and project collaboration in the field of literature, publishing and translation.