Headhunters take a global approach as they entice staff
Share - WeChat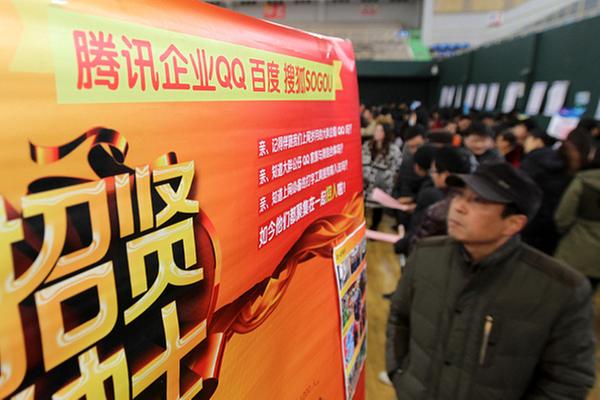 Big name IT firms such as Tencent and Baidu Inc advertise for recruits at a job fair in Nantong, East China's Jiangsu province. XU CONGJUN / FOR CHINA DAILY
Chinese companies have stepped up their search for international talent as they grow into multinational brands and expand overseas operations.
The trend is being fueled by a raft of government manpower policies encouraging businesses to dip into the global market.
As a result, international recruiting agencies have seen robust growth in the past few years.
Spring Professional reported its annual revenue in China jumped by between 70 to 100 percent year-on-year since 2015, without revealing detailed financial figures.
"That is down to surging demand from Chinese companies for international staff," said Xiao Lirong, director for Beijing and Shanghai at Spring Professional, a subsidiary of leading HR company Adecco Group.
More than 60 percent of the company's business has shifted to searching for worldwide talent for Chinese clients.
"This is a major contrast compared with three years ago when the majority of our work was to help multinational corporations find candidates in China," Xiao said.
There is also another dynamic in play.
Chinese professionals used to aspire to working for big multinational groups because they were considered to be more prestigious than domestic companies with better career prospects.
But that tide is now turning as headhunters struggle to fill crucial vacancies in major United States-based technology firms in the country.
High-profile players, such as Uber Technologies Inc and Airbnb, have found it difficult to find the right people in key positions.
Uber China, for example, was being run without a CEO prior to its buyout by Didi Chuxing, the Wall Street Journal reported.
These changing sentiments in the executive workforce are reflected in a survey by Michael Page.
The global recruitment specialist pointed out that 55 percent of Chinese mainland companies are increasing their headcounts this year compared to just 41 percent of multinational corporations in China.
"High-calibre workers in mid-to-senior positions across most industries now find domestic companies to be a better bet," the survey stated. "This has, in turn, sparked Chinese employers to roll out more ambitious recruitment plans."
As for business models, the country's big-name tech firms have become a magnet for international professionals.
Baidu Inc, the online juggernaut, took its recruitment bandwagon to leading universities in the US, including Stanford in California and Carnegie Mellon in Pittsburgh, this year.
It was the first time the web services giant had launched an overseas recruitment drive.
"The goal is to look to hire more international people," the company stated.
Internet rival Tencent Holdings Ltd embarked on a similar journey a few years ago, while telecom manufacturer, Huawei Technologies Co Ltd, is starting to cast its net globally.
Back in February, the electronics group created internal teams to work with open source groups in Silicon Valley. Huawei intends to extend its operations in the US, Eastern Europe, Russia, Israel, and India.
"We are committed to building an ICT ecosystem with an ethos of, 'In Europe, For Europe'," said Vincent Pang, president of Huawei.
"The company's future will depend on our ability to attract and harness the right talent."
Indeed, in a bid to attract candidates from multinational competitors, domestic companies have increased salaries and benefits, as well as training.
For the right person, the sky is literally the limit as rival firms race to fill key vacancies.
"Many of them are looking to raid Western companies for their experienced technical talent and executives by offering dramatic pay increases," said John Zhang, a headhunter based in Shanghai. "At times, it can be as much as 50 percent or higher.
"But there are still challenges for Chinese companies because of the lack of a mature employee training system, institutionalization of decision-making and the work-life balance that many candidates still aspire," he added.