Guiyang set to become major tourist draw
Share - WeChat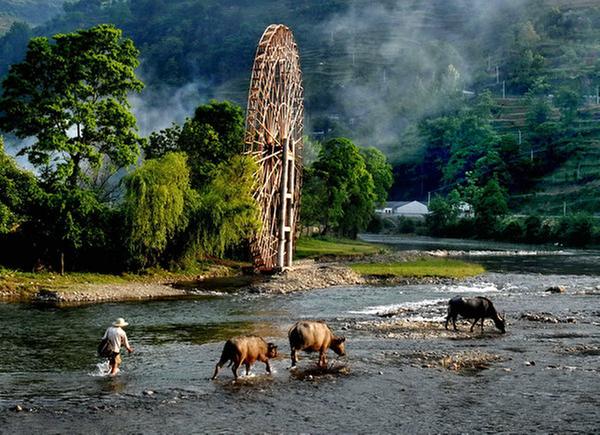 Shili scenic gallery in Guiyang features mountains, forests and streams. [Photo provided to China Daily]
Contracts to develop a total of nine tourism projects worth 6 billion yuan ($893 million) in Guiyang, the capital of Guizhou province, were announced at a tourism promotion conference in Beijing on Aug 4.
They include a geological tourism town, a self-drive camping site and a "red tourism" zone.
The projects are part of the city's efforts to become a tourism destination that offers diverse experiences, says Yuan Yunlong, director of the city's Tourism Industry Development Commission.
Guiyang is known as a summer getaway for its year-round cool weather and lush mountainous landscape. The average temperature is between 17 and 28 C all year round.
The city is expected to have 1,000 ecological parks by 2020.
New travel routes for visitors were also announced at the Beijing conference, and they will integrate the city's waterfalls, mountain parks, historical sites, ethnic culture and outdoor programs.
Guiyang's scenic spots usually see more visitors during the summer, the local tourism authority reports.
Approximately 30 million people visited Guiyang in the first six months of this year, up 18 percent year-on-year, and income from tourism was 85 billion yuan, up 33 percent year-on-year.
Last year, the city received 111 million visits from home and abroad, up 31 percent over the previous year, and the local government expects the number to cross 195 million by 2020.
Guiyang is going all out to attract travelers, and discounts are being offered to travelers from Chongqing, Nanchang in Jiangxi province, and Fujian province's Xiamen.
Separately, a total of 4 billion yuan will be used to upgrade or develop 23 scenic spots in the city this year.
As for new attractions, the Quanhu park, the Nanshan post, the Wanxiang Hot Springs and Nanshan water park have just opened to the public.
More flights and trains are also being introduced to make things easier for travelers.
The third phase of Guiyang airport will be completed by 2019, giving it a capacity to handle 35 million visitors per year.
And the high-speed rail system is also being expanded.
Currently, it takes eight hours by train to reach Guiyang from Beijing, but travel time is expected to be cut to five hours soon, according to Wang Yuxiang, the deputy mayor of Guiyang.
Rail connectivity to Chengdu, the capital of Sichuan province, is expected to be launched by the end of next year, and a rail line to Nanning in Guangxi Zhuang autonomous region is now under construction.