Sharp, BlackBerry return to domestic smartphone arena
Share - WeChat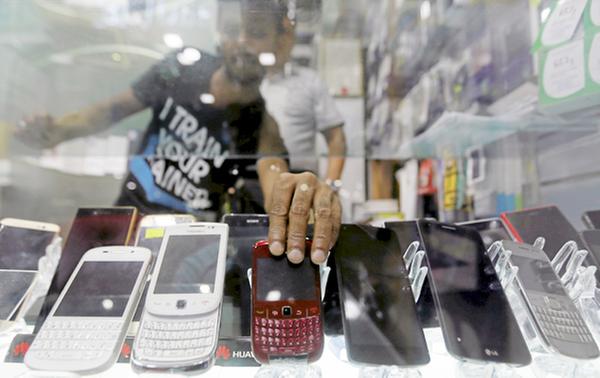 A man shows a used BlackBerry cell phone to a customer at a show room in Colombo, Sri Lanka, July 7, 2017. [Photo/Agencies]
Foreign smartphone brands BlackBerry Ltd and Sharp Corp returned to the Chinese market on Tuesday with the help of local electronics makers. The two companies hope to compete in the world's largest smartphone market, and square up against domestic rivals such as Huawei Technologies Co and Oppo Electronics Corp.
Chinese consumer electronics company TCL Corp has introduced its first BlackBerry-licensed phone-BlackBerry KEYone, aimed at the mid-and high-end market. Equipped with a 4.5-inch full HD display, the smartphone possesses a physical keyboard that provides more flexibility and usable space for typing.
The move follows an agreement between the two companies in December that saw TCL become the manufacturer of BlackBerry smartphones, as BlackBerry moves away to focus on its security software business.
After years of trying to turn its smartphone business around, BlackBerry has largely ceded its global market share to its rivals such as Apple Inc and Samsung Electronics Co.
On Tuesday, Japanese electronics giant Sharp revealed its latest full-screen smartphone, Sharp Aquos S2, in Beijing.
Luo Zhongsheng, a senior vice-president of Foxconn Technology Group, said Sharp will put more efforts into developing full-screen smartphones.
Last year, Foxconn acquired Sharp to rejuvenate Sharp's business, with an aim to expand its product portfolio, including televisions and smartphones.
Analysts said foreign smartphone brands are attracted to China by its huge market potential. However, they may encounter steep challenges as China's smartphone industry is witnessing a slowdown and the competition among major smartphone makers is very intense.
"At present, it is very difficult for BlackBerry and Sharp to challenge the supremacy of Huawei and Oppo, although Chinese consumers have some expectations for these old brands," said Wang Yanhui, secretary-general of the Mobile Phone China Association, adding that users' loyalty to smartphone brands is relatively low.
Xiang Ligang, CEO of telecom industry website cctime.com, said the brand influence of BlackBerry is much weaker, lacking competitiveness compared with local rivals. He added the newly launched smartphones of niche brands may not be accepted by consumers quickly.
A report by consultancy Counterpoint Research said smartphone shipments in China grew a modest 3 percent year-on-year in the second quarter. Huawei and Vivo were the fastest-growing brands, followed by Oppo and Xiaomi, together cementing the top four spots and extending their lead over Apple and Samsung by a widening margin, the report said.
"The top four Chinese brands now capture close to 69 percent of the market as these brands have raced ahead of international and other local brands with expansive distribution reach and exciting portfolio," said James Yan, research director at Counterpoint.