Club Med unveils special resort line
Share - WeChat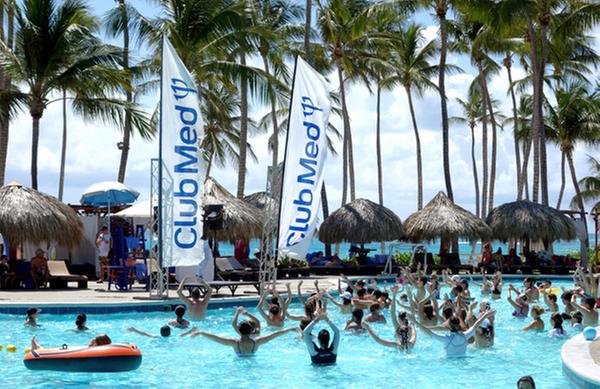 Club Med banners blow in the wind beside the swimming pool at the Club Med Punta Cana vacation resort in the Dominican Republic, March 3, 2016. [Photo/VCG]
In the wake of two consecutive years of profits, French leisure group Club Med said it is launching a new line of resorts in China-targeting business generated by the increasing sophistication of consumers and higher demand for traveling from affluent Chinese families.
The company said the new resort brand is called Club Med Joyview, and has been designed especially for the Chinese market. The first two Joyview resorts will be unveiled in the northern coastal resort town of Beidaihe and in Anji county, in Zhejiang province, by the end of this year.
Club Med President Henri Giscard d'Estaing said the Joyview resorts would mainly target middle-class families and business people visiting first-tier cities. As a result, the new resorts will mainly be located in smaller cities within three hours drive from the main cities.
Bought by Chinese conglomerate Fosun Group for 900 million euros ($1 billion) in early 2015, Club Med swung back to profit within the first year, turning round the 44 million euro loss posted in the year prior to the acquisition. The group reported that its business revenue for the winter 2017 season, from November 2016 to April 2017, hit a record high of 875 million euros, up 6.5 percent year-on-year.
With these successes in the bag, Club Med said it will open eight new resorts worldwide between 2017 and 2018. By 2020, the leisure group said it is targeting opening five new international resorts annually, including in Italy, Spain and the United States.
Club Med managed double-digit growth in China last year. Its new ski resort in Beidahu, located outside of Jilin city in Jilin province, opened in late November last year and reported an occupancy rate of 81 percent for its first season.
The group says there will be 20 Club Med resorts in China by 2020.
Giscard d'Estaing said his company's surging presence in China is the result of the evolution of the local market. The rise of the millennials, China's second-child policy, and the developing tastes of consumers had resulted in their pursuit of special travel experiences, he added.
According to China's biggest online travel agency, Ctrip, demand for travel is hot target among millenials and travel is meeting that need. It said that since the second-child policy was introduced in late 2015, one third of the orders the agency had received were for family trips, with each family trip worth an average of just over 10,000 yuan ($1,481) in 2017.
Giscard d'Estaing also said that Club Med's success in the past two years was inseparable from the input provided by Fosun.
"We have partnered with Fosun for nearly seven years," he said. "It has supported our development not only with their financial means, but also with their global capability, particularly its industrial base in China."
Speaking of Beijing's recent scrutiny into Fosun's overseas investments and debt, he said he agreed that anything that contributed to economic stability was a positive move.
"In that respect, the action of Chinese authorities reinforces stability and growth. We have seen Fosun's steady and reasonable development, as well as their ambitions," he said.