Boeing to deliver aircraft from Zhoushan
Share - WeChat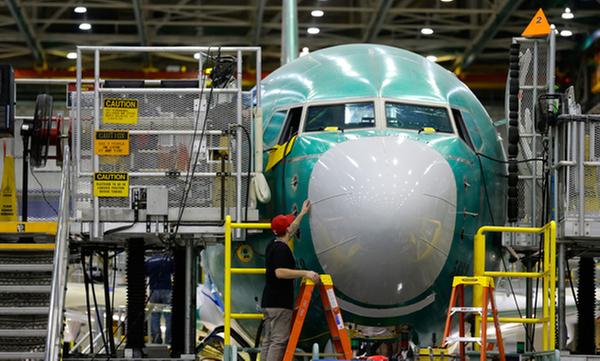 A worker inspects the nose cone of the second Boeing 737 Max airplane being built in Renton, Washington. [Photo/Agencies]
Boeing Co aims to deliver its first single-aisle B737 MAX 10 aircraft by 2020.
The narrow-body plane is mainly built at the company's Seattle-based factories.
But up to 100 of the single-aisle B737 MAX series aircraft are expected to be rolled out from its Chinese factory in Zhoushan to local customers.
The Boeing plant in Zhejiang province will be the company's first overseas completion and delivery center.
Construction work at the factory started in early May, and it should be operational and delivering aircraft by the end of 2018.
"With 199 seats, the B737 MAX 10 extends the competitive advantage of the B737 MAX family," said Darren Hulst, managing director of marketing at Boeing Commercial Airplanes Northeast Asia.
Last month, the fuel-efficient jet was launched at the Paris Air Show and is capable of flying 370.4 kilometers farther than previous B737 models.
Within two years, Boeing will halt the production of earlier versions and shift to manufacturing the B737 MAX series.
"Airlines need aircraft that have more seats and lower seat-mile costs," Hulst said.
"The B737 MAX 10 will help Chinese airlines meet the demand of crowded markets during peak frequencies and tourism seasons," he added.
More than 360 new B737 10 aircraft have been ordered from Boeing with over 60 of them coming from Chinese customers, including Xiamen Airlines, Donghai Airlines, China Development Bank Leasing and Tibet Financial Leasing.
The aircraft manufacturer has also predicted that 29,530 single-aisle aircraft will be needed globally in the next 20 years, with China accounting for more than 5,000 narrow-body planes.
"The single-aisle segment market will experience the fastest growth, fueled by the increase of budget airlines and the growing demand of emerging markets," Hulst said.
Boeing's major global rival Airbus SAS will start assembling the A320neo at its assembly plant in Tianjin later this month. Deliveries are penciled in for September.
The European aviation giant stole a march on its key competitor by opening an assembly line in Tianjin in 2008, Lin Zhijie, an aviation industry analyst, pointed out.
This has helped Airbus lift its market share in China to about 50 percent.
"Boeing hopes to make more efforts in China by establishing its first overseas completion and delivery center in Zhoushan, and seize the huge market potential here," said Lin, who is also a columnist at Carnoc.com, one of China's largest civil aviation websites.