Bringing a slice of Italy to China
Share - WeChat Michelin star chef brings the culinary traditions of Naples to Beijing's hutongs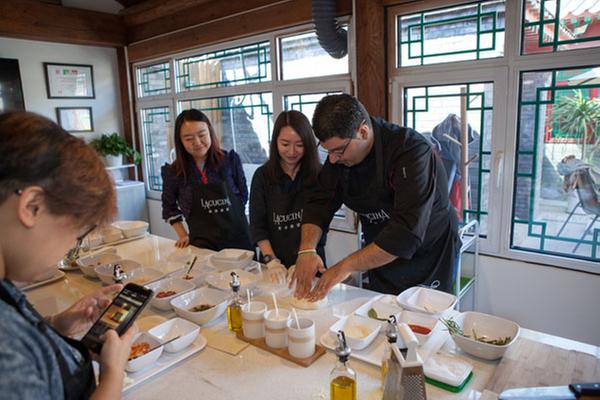 Liushuixiang's Michelin star chef Massimo Esposito teaches Chinese customers how to make Naples-style Italian food at his restaurant in a hutong in Beijing, China. [Photo provided to chinadaily.com.cn]
It is not too difficult to find great Italian food in some of Beijing's posh neighborhoods, such as the top hotels of the central business district or the vibrant bar streets of the Sanlitun area.
However, what you may not expect is an authentic Italian restaurant hidden deep within the hutongs or alleyways in the old parts of the Chinese capital.
The courtyard restaurant No 44 Liushuixiang, or "flowing water lane", sports the street address as its formal name. It is located about two kilometers to the east of the Forbidden City, or the centre of Beijing.
It will take about 10 minutes to walk from the Dongsi Station of the metro line, only if you know your way around the area. Otherwise, chances are that you may find yourself hopelessly lost in the confusing and maze-like neighborhoods of the hutongs.
But once you take the first bite of the Neapolitan pizza, you will soon forget the tough time you had locating the place.
Food from Naples in southern Italy, especially those made by his grandma and sister, has always been his favorite, said Liushuixiang's Michelin star chef, Massimo Esposito, while proudly sharing pictures of a special bread from his hometown on his iPhone.
The 38-year-old chef, who sports a Super Mario-style moustache, then carefully explained how the bread is prepared in a unique way to ensure its special texture and taste.
Esposito previously worked as a lead chef on a cruise ship. The job took him around the world, until a few years ago when he joined a restaurant in Hong Kong. He never thought that one day he would move to Beijing and settle down there.
The globe-trotting Italian first arrived in Beijing two years ago, when he was asked to help to fill a temporary vacancy in a local Italian restaurant for two weeks.
During that short stint, he had a diner, a Chinese girl from East China's Shandong province. They soon began to date each other and quickly fell in love.
With little hesitation, Esposito decided to stay on in Beijing. In addition to a beautiful wife, the decision also brought him into contact with China's ancient culinary culture, which includes the drinking culture.
Esposito's major drinking test was with his future father-in-law during their very first meeting in Beijing.
How a man drinks is seen as a test of character in Chinese tradition. Someone who can hold his liquor is normally considered a decent and sincere man.
Luckily, Esposito qualified, said his wife. It is never easy, given that people from Shandong are widely considered the country's best drinkers.
Joining a Shandong family also helped the Michelin star chef to master the intricacies of China's culinary traditions.
"She (his mother-in-law) uses Sichuan pepper to make steamed fish and you can't image how tasty it is! Amazing," Esposito said, while shaking his head to show his surprise.
Sichuan pepper then became his favorite Chinese ingredient. He has even brought it back to Italy as gifts to friends and colleagues.
Though it is very hard to find enough authentic Italian ingredients in Beijing, Esposito said he is trying to fuse Italian culinary traditions with local tastes. After living two years in Beijing, he has even mastered enough mandarin to shop in local markets.
When the restaurant is not too busy, Esposito holds cooking lessons and wine tasting courses in his lovely courtyard, which is big enough to hold up to 30 people.
Together with other Italian chefs in China, Esposito has established a federation of Italian chefs. Esposito serves as the president.
He has also started training courses in some vocational schools in China and is often surprised by the imagination of Chinese students.
Talking about the future, Esposito is determined to spread Italian culinary traditions across China.
Esposito recalled that he was not the kind of student who could score high marks in exams, but one who was exceptionally good in practice.
That was the reason why he chose to learn cooking after middle school, and, looking back, it seems there could not be a better decision.
"If I hadn't turned a chef, I may have become a driver," Esposito said.
zhanghaizhou@chinadaily.com.cn
Most Popular