The aura of hawthorn
Share - WeChat Editor's Note: China is divided into as many culinary regions as there are different ethnic groups. Its geographical diversity and kaleidoscopic cultural profiles contribute to the unending banquet of flavors.
It is a graceful tree with large, elegant leaves that look just a little like oak. And like the oak, it is also a deciduous tree, but here the similarities end. In fact, it is botanically closer to the rose than any other plant.
The hawthorn is Beijing's best-known native tree, growing wild in the hilly ranges that surround the Forbidden City. Its fruit - sour little globes with rather starchy pulp - are made into bingtang hulu, candied haw, the classic hutong snack that every Beijing child grew up eating, and which many tourists are eager to try.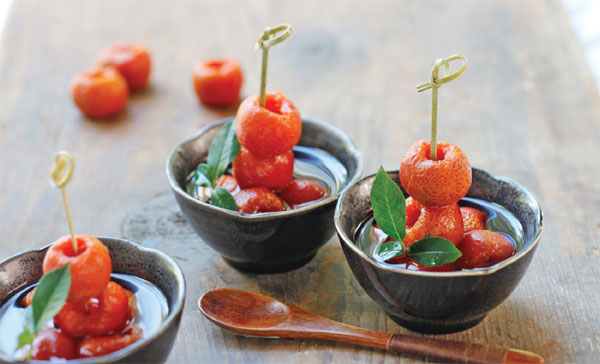 The hawthorn is popular in China for its health properties and aura of romance. Photos Provided to China Daily
It is a forgiving tree, tolerant of drought and poor soil, dropping its leaves to face winter naked, then sending out tough bunches of shoots when the weather warms.
Before long, clusters of snow-white flowers will cloud the dark green foliage, sending out a subtle scent to perfume the neighborhood. The flowers are short-lived, and the petals soon carpet the ground below, leaving the tiny fruit to slowly mature.
By the end of summer, they will have grown to the size of marbles. The green fruit develops a glowing pink blush, deepening to a dark red that gives the fruit its country name - shanli hong (red fruit of the mountain).
Hawthorn is eagerly harvested wherever it grows, which is all over Henan, Hebei, Shandong, Sha'anxi, Shanxi, Jiangxi, Zhejiang and Heilongjiang provinces and the Inner Mongolia autonomous region.
It is most often cut, cored, dried and stored, and seldom eaten fresh. Its natural acidity makes the mouth pucker.
The dehydrated fruit slices are an essential ingredient in suanmeitang, the sour plum drink that Beijingers drink in vast quantities to combat the summer heat.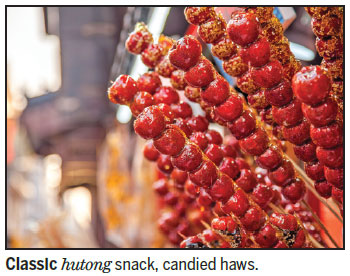 Beijingers also like an intensely sweet jam, chaohongguo, which is hawthorn fruits cooked down with rock sugar. And, of course, there are hawthorn candies, either flattened into wafer-thin discs or cut into long, thin strips and coated with granulated sugar.
Why are hawthorn sweets so popular?
The hawthorn's high acidity means it aids digestion, and traditional Chinese medicine also believes it promotes circulation and stimulates insulin. Pregnant women near term are discouraged from eating hawthorn because they are believed to be labor-inducing.
Apart from its health properties, the Chinese love the hawthorn tree for its aura of romance.
When China and the former Soviet Union still regarded each other as socialist brothers-in-arms, many Soviet folk songs became immensely popular, among them the melodious Hawthorn Tree.
The educated youths who were sent down to the countryside during the first turbulence of the mid-1960s used it as one of their anthems as the trucks and trains sent them off to the farthest corners of the country.
It was all about country, about laying down your life and of being as hardy as the hawthorn tree. It perfectly suited the sentiments of that era.
Years later, Chinese director Zhang Yimou created a film roughly based on the same theme. Under The Hawthorn Tree is about a pretty young lady with an "undesirable background" sent into the countryside. She meets a young worker and love blossoms against all odds. And yes, their rendezvous is under the hawthorn tree.
The film broke all box office records in 2010, a rare achievement for a romantic drama at that time. It was the best testimony of the Chinese love for the hawthorn and the romance it represented. Under the Hawthorn Tree also did well in film festivals abroad.
Romance has long been associated with this pretty tree. In Shandong, local folklore explains how the hawthorn tree was created.
Long, long ago, there was an attractive country maiden who lived with her family in the foothills, by a river. Further downstream lived a good-looking lad. They shared the same beautiful scenery and drank from the same cool, clear stream, so naturally they fell in love.
But the young lady's beauty did not go unnoticed, and an imperial edict came for her to enter the palace as a concubine.
The lovers were heartbroken, and she bought time by declaring she needed to keep a 100-day vigil by her mother's tomb. The emperor reluctantly agreed.
The young man chased after the imperial entourage and finally stopped by a hilltop where he slowly wasted away. By the time his lady love managed to escape, he had turned into a tree. She wept so bitterly that she, too, turned into a tree overnight.
The trees flowered and developed some beautiful red fruit. These were the first hawthorns.
Grassroots storytellers also like telling the tale of how the candied haws, or bingtang hulu, came about.
Once upon a time, an emperor's favorite concubine suddenly went off her food. She started losing weight and was soon nothing but skin and bones.
The worried regent called in all the doctors in the land, but none could diagnose her ailment. A back kitchen cook then suggested a traditional Chinese herbal vendor. He took one look at the lady and told the cook to peel and core some hawthorn fruit and coat them in crystallized candy.
The royal lady was to eat three each day before meals for a week. To everyone's surprise, not only did she enjoy the candied haw, but she also started getting back her appetite.
And so it was that the common folks outside the palace also started cooking the candied haws. The difference is, instead of being served on the finest porcelain, the candied haws were strung up on bamboo skewers and stuck onto a straw cushion.
It became every Beijing child's favorite candy.
paulined@chinadaily.com.cn
Try this
Refreshing hawthorn ice lollies
100g dried hawthorn fruit slices
2-3 preserved dark plums, wumei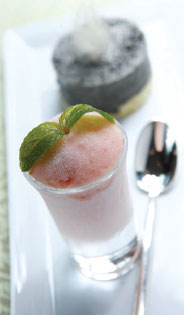 1-2 slices licorice root
100g rock sugar
Wash all ingredients, except sugar, and drain.
Place them in a large pot together with 1.5 liters water. When the liquid boils, add rock sugar and stir. Simmer till liquid reduces to slightly more than one liter.
Filter the juice through a sieve and discard solids.
Cool, then pour into lolly molds. Freeze, and enjoy a tangy sweet treat that also aids digestion.
Hawthorn tea
A handful of dried hawthorn fruit slices
1 tablespoon dried chrysanthemum flowers
1 tablespoon dried osmanthus flowers
Raw sugar to taste
Wash the hawthorn fruits and drain. Place all ingredients into a large teapot and pour boiling water over.
Leave to steep for five minutes. Serve unsweetened, or sweeten to taste.
This tea is a fragrant, tangy infusion that will finish off a nice dinner.
(China Daily European Weekly 06/30/2017 page18)