Tianjin Jianbingguozi listed into ICH catalogue
Share - WeChat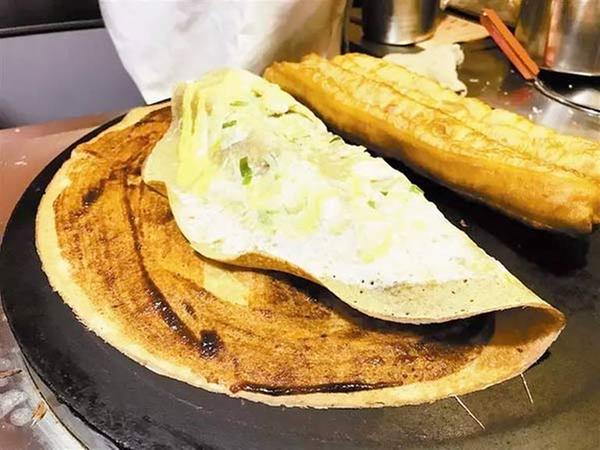 Tianjin jianbingguozi [Photo/Tonight News Paper]
Street snack jianbingguozi (thin pancakes and fried dough sticks) was listed into the fourth batch of intangible cultural heritage of Tianjin municipality recently.
Made of mung bean flour, eggs, chopped green onion, fried bread stick, sweet sauce made from fermented flour and chili powder, the jianbingguozi has a long history and features one of the most renowned snacks with local flavor in Tianjin. It is the fourth most distinctive food of Tianjin following Goubuli Baozi (steamed stuffed bun), Erduoyan Zhagao (fried rice cake), and Shibajie ma hua (18th Street fried dough twists).
The new released ICH catalogue includes 76 items, divided into nine categories such as folk literature, traditional music, dance, drama, acrobatics, art, and medicine.
Jianbingguozi is included in the traditional skill genre, with the making technique of jianbingguozi in Deluzhai, Ersaozi and Yijinlaowei, three renowned chain stores in Tianjin on the list.
Besides, handmade monkey handicrafts, eight kinds of desserts from time-honored Guishunzhai pastry shop, Jingu thin noodles, Mu-style shuttlecock are also on this year's list.
Jianbingguozi, which originated in Tianjin, has now become more than a local snack food, and can be found in US, UK, France and other countries.
Most Popular