Moving forward, backing away
Share - WeChat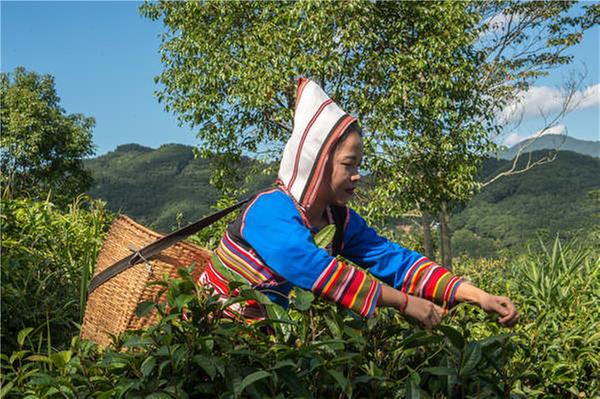 A Jino woman picks tea leaves. [Photo provided by Will Wain-Williams]
The room was fragrant.
I really wanted to try some. I was in luck.
We next visited the tearoom, a large space centered around a beautiful table carved from a huge tree root.
Cakes of every shape and size were piled around the edges of the room.
It had a contemporary feel, although still family-owned.
The head of the household explained they'd relocated from the mountaintop to enjoy a better quality of life.
Their traditional lifestyle had been ascetic, without any modern amenities.
It's fine if urbanites want to criticize them for abandoning their traditions, he said, as he broke a chunk of tea and dropped it into a small teapot with a Chinese poem printed on the side.
But these "city dwellers" haven't endured the harsh life that accompanies ancient ways-that is, going without electricity, running water or access to education.
Indeed, I enjoyed the laid-back lifestyle and opportunities to learn from this journey.